Nicole Kidman Lives A Secret Life As A Man - Updated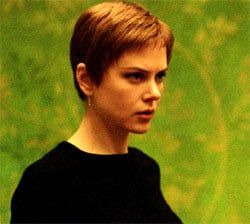 UPDATE! I've just spoken with Nicole Kidman's reps who say that Production Weekly's report is absolutely wrong and that Nicole is not involved in this project. Production Weekly further confirms that they made a mistake. Nicole Kidman is not involved in this project.
Nicole Kidman is preparing to live a secret life as a man. Production Weekly claims that she's been cast in James Tiptree Jr., a movie based on the real life of a female science fiction writer who used a male pseudonym to break down genre gender obstacles.
It seems likely that if she's on board, Kidman will be playing James Tiptree Jr., whose real name was Alice Bradley Sheldon. From 1967 until well into the 70s she published popular works of science fiction under the Tiptree pseudonym, even interacting with well known male science fiction writers such as Philip K. Dick and Harlan Ellison with no one the wiser. The world at large simply assumed that she was indeed, a man.
The film is currently under development with Plan B Entertainment from a script written by Marcus Hinchey who, as far as we know, really is a man.
Your Daily Blend of Entertainment News