New Night At The Museum 2 Trailer: Darth Vader Allied With Oscar The Grouch!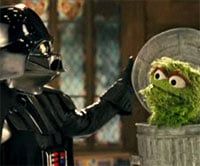 The new trailer for Night at the Museum: Battle for the Smithsonian starts out much the same as the others, but somewhere about halfway through takes a right turn. One of the fun things about the real Smithsonian museum is that in addition to containing some of the world's best ancient history exhibits, they've also preserved key pop culture icons. That gives Ben Stiller a whole bevy of new things to be tortured by, including according this trailer Darth Vader teamed up with Oscar the Grouch. Now that I think of it, they would be natural allies, wouldn't they?
Will Darth Vader take over Sesame Street? Find out in the new Night at the Museum 2 trailer below:
Your Daily Blend of Entertainment News
Thank you for signing up to CinemaBlend. You will receive a verification email shortly.
There was a problem. Please refresh the page and try again.