Nightmare On Elm Street May Get Another Reboot, Since Nobody Liked The Last One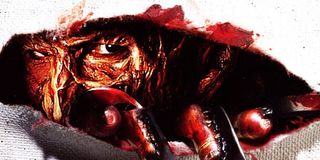 In the darkness of our memories, there lies a bogeyman too intense for even the hardest horror hellion! Much like any good threat, it threatens to rear its ugly face once more and cause terror for moviegoers worldwide. Lock your doors, and whatever you do, don't fall asleep, because Freddy Krueger is coming back again... again.
Tracking Board obtained the exclusive skinny on plans to resurrect the corpse of Krueger, in an effort to revive their most legendary franchise's earning potential. This comes only five years after the Platinum Dunes produced reboot, which saw Jackie Earle Haley terrorize Rooney Mara and friends as the classic horror protagonist. No director or projected time frame are set as of yet, but writer David Leslie Johnson has been picked to create a nightmare worth talking about.
Of course, seeing as the reboot is in its earliest stages of planning, whatever strategy the new Nightmare On Elm Street team is planning to use is under the tightest of wraps. Though, just as a guess, we're going to presume this film will be about a man who evades molestation charges on a technicality, only to be burned alive and swear vengeance from beyond the grave. Though our sarcastic rundown of the film's original plot does have us wondering about a couple factors that will determine the future of the Krueger name.
A good question to start with is whether this reboot will be an origin story, or if it will be a film that drops us into the action without much background to go on. While we may know the story of Freddy Krueger, it's still a safe bet that the character could use another modern update. Come to think of it, the fact that no one has tried to apply the "To Catch A Predator" angle to the Freddy Kruger origin is beyond us. Krueger could show up for a little playtime, only to be nabbed on camera, leading to a chase that leads him to the old junkyard where he met his demise. Depending on how much humor they inject into the film, this new angle could also open up some clever retribution on Krueger's sick behalf.
Most importantly, we can't help but wonder who will play the "new new" Freddy. While Jackie Earle Haley was a good choice on paper, Robert Englund's portrayal is as about as hard to follow behind as Wes Craven's handle on the story. That's not to say it's an impossible proposition to find the right Freddy for a more modern age, but it's definitely something that's going to need a careful touch in order not to spoil the entire project. Though with the pressure of both the Nightmare On Elm Street and the Dungeons And Dragons reboot in David Leslie Johnson's hands, it's going to take words as sharp as Freddy's gloves to make us all want to never sleep again.
CinemaBlend's James Bond (expert). Also versed in Large Scale Aggressors, time travel, and Guillermo del Toro. He fights for The User.
Your Daily Blend of Entertainment News
Thank you for signing up to CinemaBlend. You will receive a verification email shortly.
There was a problem. Please refresh the page and try again.