The Weirdest To Catch A Predator Reaction, According To Chris Hansen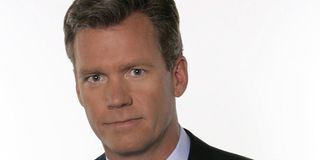 Remember To Catch a Predator? Nearly eight years after going off the air, Chris Hansen still finds himself talking about the highly controversial reality show devoted—you guessed it—to catching predators. Fans of the show may recall their own weird moments of the Dateline NBC hidden camera investigation series, but as you can imagine, Chris Hansen can too. The host recently recalled one of the weirdest reactions from the show's original run.
Apparently, predators are just as into Hansen's series as the average person, as To Catch a Predator host Chris Hansen found out during a taping of the show. Who knew? According to the AMA, the suspected predator clearly had no qualms in admitting his obsession/fascination with the show designed to catch people like himself. It's no wonder that Chris Hansen never forgot that conversation. Would you?
Weird reactions, from the predators but also critics, were just par for the course with a show like To Catch a Predator as Chris Hansen knows all too well. During its three-year run, the reality show caught lots of flack for its methods; critics of the show often referred to the series' tactics as entrapment (although the same methods were used by law enforcement teams investigating sex offenders). The reality show also sparked lots of debate, particularly when respected members of the community, like firefighters, were being profiled on the show as predators.
However, Chris Hansen is convinced the show made a positive difference on society despite the negative publicity, investigations and lawsuits. He feels the series is still very much needed. Since To Catch a Predator went off the air in 2007, the former host has been associated with several projects related to the controversial reality series. In 2009, Hansen hinted at a return of the series on his Facebook page. Fast forward to 2015, Hansen is still fighting the good fight to get To Catch a Predator back on television. In April 2015, he announced a campaign to generate money to fund an online version of the show.
You can still catch episodes of the original To Catch a Predator series on MSNBC. The news station also airs episodes of the Predator Raw: The Unseen Tapes, which features host Chris Hansen reflecting on the encounters of the To Catch a Predator series, as well as other behind-the-scenes and never-before-seen footage of the original show. You can also check out the rest of Chris Hansen's Reddit AMA here.
Your Daily Blend of Entertainment News