Now Streaming: Netflix Instant Alternatives To The Hobbit, This Is 40 & Zero Dark Thirty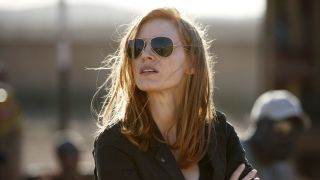 (Image credit: Sony)
With so many titles to choose from, Netflix Instant's library can be overwhelming. And so we offer this biweekly column as a tool to cut through the clutter by highlighting some now streaming titles that pair nicely with the latest theatrical releases.
This week we found inspiration from The Hobbit, This Is 40 and Zero Dark Thirty, so have provided a selection of family-friendly adaptations, raunchy R-rated comedies, and true and remarkable true tales for you to enjoy over the holiday.
The Hobbit: An Unexpected Journey
Lord of the Rings' trilogy director Peter Jackson returns to the works of J.R.R. Tolkien with this spirited adventure set in Middle Earth. Martin Freeman stars as young Bilbo Baggins, a homebody Hobbit who dares to leave the Shire, setting out on a grand adventure where he'll meet a band of dwarves, a trio of trolls and a strange creature called Gollum. Ian McKellan and Andy Serkis co-star.
Based on the iconic children's book, Jackson's adaptation will bring to life a host of characters many have long loved. For more exhilarating adventures that were born from the pages of great kid-friendly books, we suggest this triple play of adventures the whole family can enjoy.
The Adventures of Tintin (2011) Steven Spielberg took motion-capture to new highs with his epic adaptation of Georges Remi's classic comic strip about a fearless young journalist named Tintin and his dedicated dog, Snowy. When a flea market purchase leads Tintin to a mystery, nothing can stop him from tracking down the truth behind a sunken treasure! Jamie Bell, Andy Serkis and Daniel Craig lend their voices; Peter Jackson produces.
Hugo (2011) Last winter, Martin Scorsese's ambitious adaptation of Brian Selznick's The Invention of Hugo Cabret was being heralded by critics, and delighting audiences with its captivating tale of a boy who lives in the walls of a Parisian train station. This holiday season, you can enjoy Hugo from the comfort of your couch, and revel in the film's quirky characters—including a snooty inspector played by Sacha Baron Cohen—and its wonder-filled world. This one will be especially engaging to cinephiles, though to avoid spoilers I won't say why. Asa Butterfield, Chloe Grace Moretz, and Ben Kingsley co-star.
Alice in Wonderland (1951) Netflix recently inked a deal with Disney that has unleashed a slew of tantalizing titles from the Disney vault. Among them is their colorful classic adapted from Lewis Carroll's Alice's Adventures in Wonderland. The story centers on a British school girl who chases a frantic white rabbit, then stumbles into a wacky world where caterpillars smoke hookahs, walruses can't be trusted, and the queen has a rage that can make her lose her head…and could make you lose yours! Kathryn Beaumont and Ed Wynn lend their voices, Winston Hibler, Ted Sears, and Bill Peet direct.
This is 40
Described as a sort of sequel to Judd Apatow's comedy hit Knocked Up, this funny feature reteams Paul Rudd and Leslie Mann as frequently feuding married couple, Pete and Debbie, who try to make the best out of middle age. Jason Segel, Annie Mumolo, and Megan Fox co-star.
Sometimes there is nothing so satisfying as an R-rated comedy. Full of raunchiness, off-color jokes, and flat-out outrageous gags, this kind of movie can be just what the stress of the holiday season demands. So kick back, relax, and laugh your ass off at the wild misadventures of a anti-heroes who can't get a hang of what being a mature adult means. But it's cool, because we love them for it.
2 Days in New York (2012) A spirited sequel to Julie Delpy's offbeat rom-com 2 Days in Paris, this Big Apple-set romance centers on Marion (Delpy) and her latest lover Mingus (Chris Rock in his best role to date), a couple who seems to be in domestic bliss until her troublemaking French family comes to visit, and throws their lives into chaos. Cultures clash, sibling rivalry sparks, tempers flare, and it's hilarious every step of the way, leading up to one of the oddest (and sharpest) self-mocking cameos in film history. Albert Delpy and Alexia Landeau co-star; Julie Delpy directs.
Young Adult (2011) As follow-up to his Oscar-nominated Up in the Air, Jason Reitman helmed this fierce and funny comedy that goes to the jugular with bad behavior and a total bitch for a protagonist. Charlize Theron stars as Mavis Gary, an immature divorcee who is on the verge of losing her cushy job as a YA ghostwriter when she gets an e-mail from her high school sweetheart. Despite the fact that it's a birth announcement for his first child with his wife, Mavis believes this is a sign he wants to reunite, and so travels back to her old town to free him from the hell she assumes he lives in. Much awkwardness and hilarity ensue. Patrick Wilson and Patton Oswalt co-star.
Klown (2010) It's not every day a comedy can make me scream with laughter, but this fearless feature out of Denmark did just that! While American movies that past few years have been pushing the envelope when it comes to outrageous sexual humor, writer-actors Frank Hvam and Casper Christensen skipped all the foreplay and got straight to the WTF. The story centers on a canoe trip the two have planned that's meant to be a barrage of drunken, drug-fueled days and nights of concerts and casual sex, culminating in a visit to an almost mythic brothel. When Frank brings along his girlfriends nephew to prove he's ready to be a dad, even this turn in events cannot topple Casper's dedication to debauchery. Mikkel Nørgaard directs.
Zero Dark Thirty
The Hurt Locker's filmmaking team of screenwriter Mark Boal and director Kathryn Bigelow reunite for this harrowing historical drama which charts the U.S. forces' long journey to hunt down al-Qaeda terrorist leader Osama bin Laden. Beginning with September 2001 attacks and moving through notorious figure's death at the hands of Navy S.E.A.L. Team 6 in May, 2011, this critically heralded film is as challenging as it is riveting.
Sometimes real world events can be so grand in scope, so emotionally charged it seems impossible to process them in full. In these instances, film can be a powerful tool to help us understand these events or work out our conflicted feelings about them. For more dramas that seek to investigate real world conflicts through personal stories, check out these three celebrated features.
Jarhead (2005) Based on the memoir of U.S. Marine Anthony Swofford, this biographical drama takes viewers deep into Operation Desert Shield as Swofford (played here by Jake Gyllenhaal) and his fellow snipers gear up for what they expect to be the fight of their life in the Persian Gulf. Peter Sarsgaard and Jamie Foxx co-star; Sam Mendes directs.
Hotel Rwanda (2004) This three-time Oscar nominated biopic centers on the incredible story of hotel owner Paul Rusesabagina, a native Rwandan who nobly worked to shield refugees from the genocide that burned through his nation. Don Cheadle portrays the extraordinary man whose sacrifice and efforts ultimately saved more than 1,000 lives, earning an Academy Award nod for his powerful performance. Terry George directs.
A Mighty Heart (2007) Based on the memoir of Mariane Pearl's heartbreaking memoir of the same name, this harrowing docudrama follows her impassioned search for her husband, Wall Street Journalist reporter Daniel Pearl, once he was kidnapped in Pakistan. If you remember the headlines this story grabbed back in 2002, you know this is a tale of tragedy. Yet it's inspiring to see Mariane's perseverance in the darkest hour of her life. Angelina Jolie earned much critical praise including a Golden Globe nod for her devastating portrayal of Mariane. Dan Futterman and Irrfan Khan co-star; Michael Winterbottom directs.
Your Daily Blend of Entertainment News
Staff writer at CinemaBlend.