Now Streaming: Netflix Instant Alternatives To Nightcrawler, Interstellar And The Theory of Everything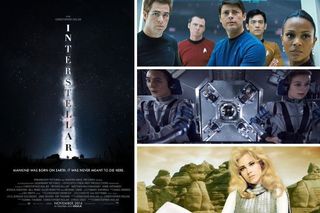 With so many titles to choose from, Netflix Instant's library can be overwhelming. So we bring you this biweekly column as a tool to cut through the clutter by highlighting some now streaming titles that pair well with the latest theatrical releases.
Looking to Nightcrawler, Interstellar, and The Theory of Everything for inspiration, we've pulled together a selection of anti-hero adventures, space odysseys, and bold biopics.
Nightcrawler
Jake Gyllenhaal stars as Lou Bloom, an opportunistic night owl who finds a career he can really sharpen his teeth on when he stumbles across the seedy underbelly of Los Angeles's news media. Rene Russo, Bill Paxton, and Riz Ahmed co-star; Dan Gilroy directs. Read our review here.
For more mesmerizing tales with astonishing anti-heroes, check out this trio that boasts an Oscar-winning homage, an under-seen dark comedy, and one of the best movies of 2014.
Django Unchained (2012) Quentin Tarantino's love letter to the spaghetti Western plays out in antebellum South, centering on a freed slave turned bounty hunter on a desperate search for his lost bride. Jamie Foxx, Christoph Waltz, Leonardo DiCaprio, Kerry Washington, and Samuel L. Jackson star; Tarantino directs.
Whitewash (2013) Thomas Haden Church fronts this indie as a snowplow operator in rural Quebec who's life is thrown into spin by a deadly collision. In trying to hide the crime, his behavior becomes erratic, and darkly hilarious. Anie Pascale and Emanuel Hoss-Desmarais co-star; Emanuel Hoss-Desmarais directs.
Snowpiercer (2014) In this post-apocalyptic drama, the last dregs of humanity are confined to a train that's racing around a world caked in a new ice age. But even with mankind reduced to a few hundred people, class conflict thrives. Chris Evans stars as a have-not ready to overthrow those living in luxury, who ignore the starving. Song Kang-ho, Ed Harris, John Hurt, Tilda Swinton and Jamie Bell; Bong Joon-ho directs.
Interstellar
Christopher Nolan turns his talents away from superheroes and toward the stars in this drama about a batch of astronauts who travel into space in hopes of saving mankind from extinction. Matthew McConaughey, Anne Hathaway and Jessica Chastain star; Nolan directs. Read our review here.
Space is a setting that can allow for a wide array of adventures from hard sci-fi to more fantastical and alluring narratives. Revel in all the possibilities the universe may hold with this trio of sci-fi adventures.
Star Trek Into Darkness (2013) When a terrorist attack hits Starfleet's headquarters, Kirk and Spock must take on a dangerous mission to track him down. But one wrong move could mean intergalactic war. Chris Pine, Zachary Quinto, Zoe Saldana, Karl Urban, and Benedict Cumberbatch star; J.J. Abrams directs.
Europa Report (2013) This innovative found footage thriller follows a crew of astronauts sent to a moon of Jupiter that may prove Earthlings are not alone in the universe. It's a voyage that grows more dangerous by the day. Christian Camargo, Embeth Davidtz, Anamaria Marinca, Michael Nyqvist and Sharlto Copley star; Sebastian Cordero directs.
Barbarella (1968) Based on the French comics by Jean-Claude Forest, this campy cult classic stars Jane Fonda as the titular heroine who is assigned by the president of Earth to track down the evil Doctor Durand Durand. Her voyage is full of titillation and thrills. Jane Fonda, John Phillip Law, Anita Pallenberg star; Roger Vadim directs.
The Theory of Everything
Based on the memoir of his wife Jane Wilde, this biopic reveals the struggles a young Stephen Hawking faced before and after being diagnosed with the debilitating disease, ALS. Felicity Jones and Eddie Redmayne star; James Marsh directs. Read our review here.
For more biopics of men who were forced to overcome incredible obstacles, we suggest these three features, which offer tales of inspiration, heartache, and humanity.
The Elephant Man (1980) Inspired by the life of Joseph Merrick (A.K.A. The Elephant Man), this dark drama stars John Hurt as the titular man, whose deformity made him a freakshow attraction before he was discovered by a Victorian surgeon. Anthony Hopkins, Anne Bancroft, and John Gielgud co-star; David Lynch directs.
My Left Foot (1989) Daniel Day-Lewis won his first Academy Award for his portrayal of Irish writer Christy Brown in this tender biopic. Afflicted with cerebral palsy, Brown pursued his passion for painting and writing by making use of the one limb he could control, his left foot. Brenda Fricker and Alison Whelan co-star; Jim Sheridan directs.
The Intouchables (2011) This French dramedy unfolds the remarkable true story of the unlikely friendship that blossomed from a tragedy. When a hang-gliding accident turns an aristocrat quadriplegic, he's forced to rely on the care of others, including a gruff caretaker from a poor neighborhood. Despite their different backgrounds, these two stubborn men find common ground, and a rich bond is formed. Francois Cluzet and Omar Sy star; Olivier Nakache and Eric Toledano direct.
For even more selections, check out our Now Streaming archive.
Staff writer at CinemaBlend.