Now You See Me Gets A Sequel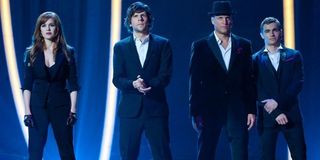 Lately, there's been a strange trend of magician centered-movies emerging. 2013 has already seen three: Oz: The Great and Powerful, The Incredible Burt Wonderstone and Now You See Me. Some have been hits (Oz with $234 million domestic); Some were major misses (Wonderstone with a meager $22 million domestic). But apparently Hollywood knows how to spot a mark, as the last of these has been steadily gaining momentum internationally. THR reports Lionsgate has begun planning for a sequel to Now You See Me as the sleight of hand heist movie's overseas numbers bypassed its domestic gross.
Despite having big budget tent pole releases like The Lone Ranger, Pacific Rim and Fast & Furious 6 as its competition, the mid-range thriller that cost $75 million to produce has become a sleeper hit, earning $115 million domestically and $117 million abroad. While these figures are no doubt worth bragging about, the film still has yet to open in Australia, Japan, or China, a market so big it can make or break movies. The small studio is confidant that after its theatrical release in this trio of nations, Now You See Me will ultimately make more than $150 million in it foreign box office. To Lionsgate this is practically a mandate to continue the story of slick thieves and magicians.
Now You See Me stars Jesse Eisenberg, Isla Fisher, Dave Franco, and Woody Harrelson as The Four Horsemen, a quartet of wild and gifted stage magicians who dazzle and delight crowds by brilliantly pulling off bank robberies during a show and then distributing the booty among the ecstatic audience members. Mark Ruffalo and Melanie Laurent played their antagonists, a FBI agent and an Interpol detective charged with discovering how the group's hocus pocus made for the seemingly perfect crime. Michael Caine and Morgan Freeman also co-starred in the Louis Leterrier-directed adventure.
When the movie opened in the US last May, critics complained that the plotlines set up didn't satisfyingly resolve. Some speculated this was a lame ploy to allow for an easy sequel and it appears they may have been right. Despite what Johnny Depp and Armie Hammer think, critics are rarely to blame for a movie's flopping. It is clear that despite mostly negative reviews Now You See Me found an appreciative audience worldwide, reflected in its impressive box office and enviable CinemaScore of A-. For all those who enjoyed this caper, Lionsgate promises Now You See Me 2 will leap into production in 2014. Though it's currently unknown who will pen the project, or which of its cast will return.
Check out the trailer below, and in comments tell us where you hope the sequel will lead.
Staff writer at CinemaBlend.
Your Daily Blend of Entertainment News
Thank you for signing up to CinemaBlend. You will receive a verification email shortly.
There was a problem. Please refresh the page and try again.