The Official Avengers Box Office Numbers Are Even Bigger Than You Thought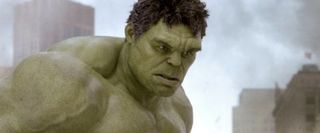 The big news over the weekend was that The Avengers had become the first movie ever to make $200 million in a single weekend. Turns out, the news was even bigger than that. The final numbers from the weekend box office are in, and The Avengers finally tally at the North American box office was an astonishing $207 million. According to Deadline you can add another $447 million from international markets to bring The Avengers to $654 million worldwide, which makes it the #53 highest-grossing film worldwide of all time, just 10 days into its release.
That uptick is largely due to a bigger Sunday than anybody expected-- after coming in second to Harry Potter and the Deathly Hallows: Part 2 for the Friday record, with $80.8 million, The Avengers went on to set the record for the biggest Saturday and Sunday ever. Saturday brought in an extra $69.5 million domestically, while Sunday was a very small drop at $57 million.
We're running out of adjectives to talk about The Avengers around here, but at least for us, the excitement really hasn't ended. We spent the morning going over our favorite scenes from the movie, and the comments over there are going strong if you want to chime in with your own pick. If you want to talk box office, though, chew on this-- the incredible $207 take means that, even if The Avengers drops the standard 50% after opening weekend, it could become the first film ever to make $100 million in its second weekend. Anyone want to take the bet that can happen? It's paid off to bet on Joss Whedon and company so far, so it might not be as outlandish as you think.
Your Daily Blend of Entertainment News
Staff Writer at CinemaBlend