Optimus Prime Screams Towards The Sky In New Transformers: Age of Extinction Stills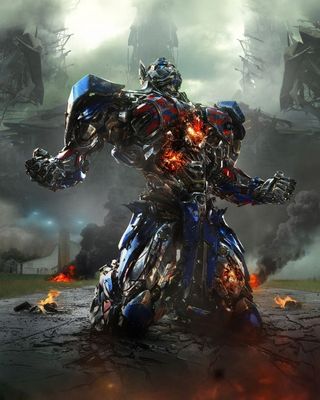 Shia LaBeouf and Megan Fox have left the Transformers franchise behind, but they were never the real stars anyway, were they? At its core, this larger-than-life science-fiction film series is all about the Autobots, and chief of them all is Optimus Prime, who is battle-damaged but still looking like a titanium titan in the latest image from Transformers: Age of Extinction.
Empire has revealed a slew of new photos from Transformers: Age of Extinction, and we've selected some of our favorites to share above and below.
Perfectly pairing with the image you see up to is an alternate shot of Optimus Prime in action, brandishing a sword as he emits sparks and stands guard over what appears to be some quiet farmland.
Next up we have a look at Bumblebee, who is aiming an intense-looking cannon at an unseen threat. And what's that lurking in the skies behind him?
Shifting our focus to the human cast, here we see a still of Transformers: Age of Extinction's headliner Mark Wahlberg receiving direction from the franchise's helmer, Michael Bay. In the film, Wahlberg plays a mechanic named Cade Yeager who gets pulled into the dangerous world of Transformers when accidentally buying one thinking it was a junker.
Like Wahlberg, Nicola Peltz is new to the franchise. Previously, she appeared in M. Night Shyamalan The Last Airbender, then landed a recurring role on the horror-drama series Bates Motel. In Transformers: Age of Extinction , she plays Wahlberg's onscreen daughter, Tessa Yeager.
Peltz is also featured in a second shot, this one revealing how hands on Michael Bay can be on set. Here he appears to be wielding a green-screen reference for what will likely be an Autobot or Decepticon hand. Bay really is a wearer of many hats.
These images will be springing to life soon, as Transformers: Age of Extinction is set to open in theaters on June 27th.
Your Daily Blend of Entertainment News
Staff writer at CinemaBlend.