The Original Songs In Popstar: Never Stop Never Stopping Sound Ridiculous, Hysterical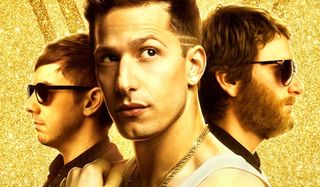 With the arrival of the upcoming movie Popstar: Never Stop Never Stopping, we always knew that we would be in store for a whole lot of brand new musical comedy. After all, the film comes to us from Akiva Schaffer, Jorma Taccone and Andy Samberg, best known as The Lonely Island. Although the pseudo-documentary feature isn't specifically about the actual band, the project gave them the opportunity to write songs in their classic style, and weave them into a story about a fake pop star named Conner4Real (played by Samberg). And last year I got a special early taste of what to expect from those tracks while visiting the production during filming.
Last June, I joined a small group of other film journalists to visit the set of Popstar: Never Stop Never Stopping, and it was while talking with producer Rodney Rothman that we got the scoop on some of the ridiculous tracks that from Akiva Schaffer, Jorma Taccone and Andy Samberg wrote for the new movie. All in all, there are about 20 to 25 new songs that will be in the feature, and Rothman gave us a taste of what to expect from some of the different pieces:
"I'm So Humble"
I don't imagine that it will be much of a challenge for you all to figure out the joke in a song being recorded to be heard by millions of people and titled "I'm So Humble." That being said, we put it first because it's one of the songs to which you can actually already listen.
"Equal Rights"
The good news? Conner4Real is a progressive individual who believes that everyone should have the right to marry, be they hetero or homosexual. The bad news? He's an idiot. As a result, one of the tracks he records is called "Equal Rights," which apparently has a positive message, but is also just a bit misguided. Rodney Rothman revealed that the song actually has a guest star featured on it, but was hesitant to reveal the artist's identity.
"Bin Laden"
You wouldn't think that a song named after one of the most notorious terrorists in history would have any heart to it, but "Bin Laden" is actually a love song. As Rodney Rothman puts it, it just has an "unfortunate" metaphor driving it, which is the lyric "I wanna fuck you like the military fucked Bin Laden."
"Maximus"
With a name like "Maximus," you'd think that it were a song about fighting like a gladiator to win a girl's heart, but the truth is a bit different. It turns out that Conner really has a deep love for his pet turtle – named Maximus – and he used that love to drive the writing of a new hit. From the way the song was described to us, it sounds like it will be among the most emotional tracks in Popstar: Never Stop Never Stopping.
"Should I Move"
Obviously rich and famous people deal with certain problems that many of us wish we could have – but Conner4Real is the kind of misguided schmuck who doesn't really understand this distance between classes. For example, he doesn't even think twice about going into a recording studio and singing "Should I Move," a track about how he just bought a huge new house but questions whether or not he should have chosen a different ridiculous mansion.
As mentioned, this is just a fraction of the soundtrack that will be playing all throughout Popstar: Never Stop Never Stopping, and just a tease of what the Lonely Island team has up its sleeves. If they can come up with songs this mind-bendingly funny stupid, one can only imagine the depths of the other 15 or so hits that we're waiting to hear.
Popstar: Never Stop Never Stopping will be in theaters on June 3rd.
NJ native who calls LA home; lives in a Dreamatorium. A decade-plus CinemaBlend veteran; endlessly enthusiastic about the career he's dreamt of since seventh grade.
Your Daily Blend of Entertainment News
Thank you for signing up to CinemaBlend. You will receive a verification email shortly.
There was a problem. Please refresh the page and try again.