The Lonely Island Is Making A Movie With Judd Apatow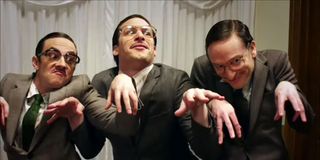 The inimitable trio collectively known as The Lonely Island has been cultivating lasciviously self-deprecating, old-school hip-hop-inspired laughs for quite some time. However, the comedy group, consisting of Saturday Night Live cast alum, Andy Samberg and writers, Akiva Schaffer and Jorma Taccone will soon occupy the top of a prominent marquee with their upcoming movie, produced by none other than mirth maestro, Judd Apatow.
While early news of Apatow's involvement on The Lonely Island project had been revealed a little less than a year ago, the filmmaker/producer took to his personal Twitter account this morning to reveal that production has commenced, also revealing a teaser poster.
While no title has been confirmed, the poster, in a seemingly self-satirizing way, names the film, The Lonely Island Presents: Top Secret Untitled Lonely Island Movie. While next to nothing is known about the specifics of the project, the poster depicting the trio of Samberg, Schaffer and Taccone looking chill in the back of a limo, decked in white could be telling. The group seems to be playing themselves, or, at least, some cinematic version of themselves that blurs the lines of reality. The film will almost certainly cull material similar to what we're used to seeing from their repertoire, which includes their SNL-associated music video numbers such as "Dick in a Box," "Jizz My Pants," and "YOLO." In fact, their groundbreaking 2005 Chronicles of Narnia-inspired short, "Lazy Sunday" could be arguably considered an early viral hit that helped put YouTube on the map.
The film will be co-directed by troupe members Akiva Schaffer and Jorma Taccone; each of which have had experience behind the camera for comedy vehicles that have fallen flat at the box-office, but gained a some cult credibility in their aftermath. Schaffer directed Samberg in his only headlining wide-release role in 2007's Hot Rod, and also had the dubious distinction of helming 2012's The Watch - the neighborhood watch-themed film that suffered from horrific timing due to then-current events in Florida surrounding the death of Trayvon Martin at the hands of neighborhood watchman George Zimmerman. Meanwhile, Taccone directed Will Forte in the 2010 film adaptation of his recurring SNL sketch, MacGruber. Perhaps, though, the presence of Apatow could be the critical ingredient which draws the right amount of disciplined inspiration out of this directorial duo.
However, when it comes to Apatow, you have a person whose plate is as full as they come. He is currently readying his first directorial feature since 2012's This is 40 with this summer's Trainwreck. Plus, he is also serving as producer for an untitled movie with Leslie Mann, and on next year's Netflix-exclusive franchise comeback Pee-Wee's Big Holiday. He's also writing a screenplay called Redeployment, which will, oddly enough, be an Iraq/Afghanistan War-themed comedy. Thus, Apatow's involvement could simply be in the limited capacity of guidance and structure.
Nevertheless, it seems that The Lonely Island boys will be set loose in Los Angeles to wreak hilariously melodic havoc when their still-untitled feature film shows up at theaters on a date to be determined. However, given that it's filming now, a 2016 date seems a safe bet.
Your Daily Blend of Entertainment News
Thank you for signing up to CinemaBlend. You will receive a verification email shortly.
There was a problem. Please refresh the page and try again.