Owen Wilson, Kristen Wiig And Christopher Walken May Join Errol Morris' Cryogenics Comedy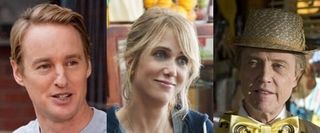 Errol Morris' cryogenics comedy Freezing People Is Easy is thawing out a pretty impressive cast. Paul Rudd signed on for the flick back in July, and now Deadline reports that Owen Wilson, Kristen Wiig, and Christopher Walken may be joining the film as well. Dang it, I really had my hopes up for a Balls of Fury sequel.
Freezing People is Easy is based on two sources: a memoir by Robert Nelson called We Froze the First Man and an episode of Ira Glass' popular radio show This American Life (Glass is also a producer on the movie). Both center on Nelson, a TV repairman who, back in the '60s, managed to stumble his way into being one of the preeminent people in the field of cryogenics/cryonics. The notion of freezing terminally ill people, to be awakened at some point in the future when they can be cured, went through a trendy period where some thought it was the key to human immortality. Sadly, however, things didn't work out as well as they did in Futurama, and they were never able to work out all the bugs.
You can hear the This American Life episode, entitled "Mistakes Were Made," right here. Zach Helm wrote the script, which is great news for anyone who loved his wonderful, little-seen 2006 movie Stranger Than Fiction (otherwise known as the Will Ferrell movie for people who hate Will Ferrell movies). The only Helm-written movie that's been released since then is Mr. Magorium's Wonder Emporium. I'm sure that movie has its fans, but Helm's Stranger Than Fiction script was great, so I'm hoping Freezing People Is Easy will have the same peculiar charm as that film.
Your Daily Blend of Entertainment News
Thank you for signing up to CinemaBlend. You will receive a verification email shortly.
There was a problem. Please refresh the page and try again.