PT Anderson Is Giving Us His Version Of Pinocchio And We Can't Wait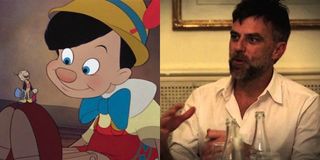 In news that should warm the balls of your feet all the way up to the tip of your noggin, cinematic luminary Paul Thomas Anderson is working on Disney's live-action version of Pinocchio. To make matters even more scintillating, Robert Downey Jr. is already keen on playing Geppetto. Now try and tell me that your Wednesday didn't just get exponentially better.
The Hollywood Reporter was the first to reveal this surprising but welcome news, reporting that Paul Thomas Anderson has been brought on board to write a draft of the upcoming Pinocchio adaptation. It is also possible that he could wind up directing as well.
But how did Robert Downey Jr. and Paul Thomas Anderson get paired together on such a peculiar project for both of them? Well, it's quite simple really: Downey, Jr. and PTA are old friends. In fact, RDJ was the first choice to star as Inherent Vice's Larry Doc Sportello. However, the actor couldn't wriggle out of his Avengers: Age Of Ultron commitments, so the part eventually went to Joaquin Phoneix.
Downey and Anderson have been looking for something to work together on for years, and now, after Downey spent the last six months tweaking the screenplay, Anderson is currently hard at work re-writing Michael Mitnick's (The Giver) script for Pinocchio, which Disney is dreaming he will also direct.
These are dreams that the entire cinematic community will now be replicating. However, before we all start imagining the various different ways that PTA could bring everyone's favorite wooden toy with aspirations of being a real boy to life, we should remember that there's still a very long way to go before Anderson actually steps behind the camera on set.
I mean, can you imagine Paul Thomas Anderson flourishing within the realms of a big-budget film that is set to be constrained by studio heads and moneymen? Since Boogie Nights, and because of the horrid time he had shooting his debut feature, Hard Eight, Anderson has always made sure that he has complete creative control of his films, which include Magnolia, Punch-Drunk Love, There Will Be Blood, The Master, and Inherent Vice. This has been fine, because he has the talent to excel in these circumstance and he constantly produces films that cinephiles devour in droves.
But fresh off the huge box office success of the live-action versions of Maleficent, Cinderella, and Alice In Wonderland, Disney will have high expectations that Pinocchio will not just meet, but eclipse these grosses – especially because of the popularity of the character and original film.
If Paul Thomas Anderson can toe the line between his idiosyncratic talent and the desires of the studio, while also making sure that the film has a mainstream appeal, then Disney will be more than happy to have him direct. But if either Disney or Anderson find themselves separated by those much feared creative differences that often leads to so many cinematic divorces, their time working together on Pinocchio could be short-lived. I'm already down on my knees and praying to the heavens above that won't be the case though.
Your Daily Blend of Entertainment News