Paul Thomas Anderson's Opinion Of Edge Of Tomorrow Is Perfect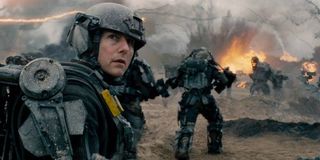 Doug Liman's sci-fi blockbuster Edge of Tomorrow earned a great deal of praise when it was released last summer, but it turns out that one genius filmmaker may be its biggest fan. Inherent Vice director Paul Thomas Anderson has heaped praise on the blockbuster, and in particular the performance by Tom Cruise, insisting that no other actor could have played that role so well.
Paul Thomas Anderson let his opinion of the 2014 blockbuster known while recently promoting the UK release of Inherent Vice. While speaking with Dazed Digital, the subject turned to Tom Cruise - who starred in Anderson's Magnolia - and the filmmaker took the opportunity to express the immense pleasure he felt while watching Edge of Tomorrow. Said Anderson,
It's hard to disagree with Paul Thomas Anderson's assessment of Tom Cruise's delightfully eclectic performance in Edge Of Tomorrow. In fact, there's even an argument to be made that it could be Tom Cruise's finest portrayal to date. That might be pushing it slightly. Especially since Cruise's performance in Paul Thomas Anderson's wonderfully meandering LA epic, Magnolia, saw him reach a level that no-one had previously imagined. But there's no denying the fact that Cruise certainly excelled in Doug Liman's intelligent blockbuster.
In Edge Of Tomorrow, when Tom Cruise needed to be light, he was light. When he needed to add dramatic weight or tension to the film or its plot, he seamlessly did so too. This was all while he also oozed that effortless screen presence and charm that has followed him throughout his career. Cruise also helped to elevate the work of his co-star, Emily Blunt, and the duo's chemistry was one of the main reasons why Edge Of Tomorrow was regarded as one of the most underrated blockbusters of 2014.
In fact, with his performance in Edge Of Tomorrow, Tom Cruise reminded moviegoers just how integral and how important the perfect casting of a role can be for a film. This is something of which Paul Thomas Anderson is certainly more than aware. Not only have his meticulously cast ensembles like Boogie Nights, Magnolia and Inherent Vice helped to bring to life the cavalcade of unique characters that he has created, but during a recent interview with Marc Maron he declared that the most important element in the creation of his films has been the casting.
I for one hope that these comments might be the precursor to Paul Thomas Anderson directing Tom Cruise again in the near future (apparently there isn't any bad blood between them regarding the Scientology-tinged The Master). As Anderson's proved with Daniel Day Lewis, Philip Seymour Hoffman, and Joaquin Phoenix, he can truly get the best out of actors, and despite the mountain of negativity that is unfortunately associated with Tom Cruise's private life, there's no denying the fact that he is still one of the most electric, nuanced and thought-provoking mainstream actors currently working.
Your Daily Blend of Entertainment News
Thank you for signing up to CinemaBlend. You will receive a verification email shortly.
There was a problem. Please refresh the page and try again.