Paranormal Activity 5 And Latino-Focused Spinoff On Their Way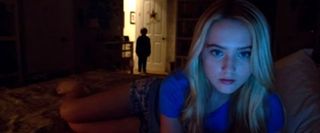 At this point a new Paranormal Activity movie is pretty much synonymous with the arrival of fall weather and Halloween, so it would be more surprising if Paramount had decided not to make another movie in the franchise, especially given the heavy-duty $30 million it's estimated to have made this weekend. But Paramount has put a twist in the usual formula of green lighting a sequel the Monday after a hit movie, by deciding that there won't just be a Paranormal Activity 5, but a spinoff as well.
And if you thought the Paranormal Activity movies were made on a short time frame and low budget, just wait until you see the spinoff. Deadline reports the spinoff would be made in time for a spring 2013 release-- 5 months from now!-- and would appeal to the "very sizeable" Latino audience that flocks to the Paranormal Activity films. The film would be about the same demon from the original films, which has possessed a handful of unlucky victims, but would star mostly Latino actors and take place partly in Spanish.
It wouldn't just be for American Spanish-speakers either-- apparently Paranormal Activity is a big hit in Latin America and South America, which means this kind of specifically targeted spinoff could have major rewards. It's also an interesting way to keep the franchise fresh, especially given that this weekend's fourth installment has grossed less than any of the other sequels. Apparently there was a teaser for the spinoff at the end of Paranormal Activity 4-- did any of you catch it, and can you fill us in a bit on what to expect?
One thing that might crop up that Paramount probably isn't expecting: controversy. The spinoff's director will be Christopher Landon, the writer of the 2007 surprise hit Disturbia who is also the son of actor Michael Landon, and not Latino. It's not unheard of for white American directors to make films about cultures they're not a part of-- Chris Weitz's A Better Life led Mexican actor Demian Bichir to an Oscar nomination, after all-- but it's a tricky needle to thread, and if Paramount is making a deliberate play for Latino audiences, they may have already set up a roadblock for themselves.
Staff Writer at CinemaBlend
Your Daily Blend of Entertainment News
Thank you for signing up to CinemaBlend. You will receive a verification email shortly.
There was a problem. Please refresh the page and try again.