Patrick Stewart Leaves The Door Open For More Jean-Luc Picard Stories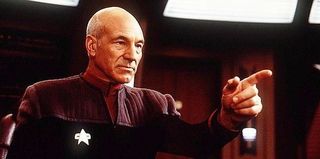 Some actors are so closely identified with a single role that no matter what else they do, they'll always have to field questions about that part. Patrick Stewart is one of them. Though he's also Professor Charles Xavier in the X-Men movies, and more, he'll always be Captain Jean-Luc Picard from Star Trek: The Next Generation to many fans. He recently answered a question about the possibility of more adventures on the Enterprise, and while it doesn't sound likely, he did leave the door open to reprising that role.
Talking to IGN about his new Starz series Blunt Talk, the interviewer asked the 75-year-old Stewart his thoughts about whether or not we'll ever see Picard on screen again. Stewart said:
That does not sound particularly promising for fans hoping to see Jean-Luc at the helm of the Enterprise one more time, but it doesn't completely shut the door on the possibility either. It's also hard to believe it's been more than two decades since Star Trek: The Next Generation went off the air in 1994.
Stewart doesn't seem to think this is actually going to happen, but with the Star Trek universe in the middle of a full-on reboot, it's certainly not outside the realm of possibility. Leonard Nimoy showed up as Spock in J.J. Abrams' 2009 Star Trek and the follow up, Star Trek Into Darkness, and though we don't know if it's still in the works, there was talk of William Shatner showing up as Captain Kirk form another timeline in the upcoming Star Trek Beyond. Most of those reports were before Simon Pegg and Doug Jung took over the writing duties and changed the direction of the plot—it was also primarily before Nimoy passed away—so who knows if that will happen.
Jean-Luc Picard is one of the most beloved characters in Star Trek lore, so if they're going to bring anyone back, he seems like a logical choice. And a movie feels more likely than a TV show. While there have been efforts to make a new Star Trek series in recent years (including one involving Patrick Stewart's X-Men director Bryan Singer), none of them have ever really got off the ground. Though, in a TV landscape where the likes of X-Files and Twin Peaks are both coming back years after the fact for limited event runs, you can never say never, but the possibility of a one-off in a movie feels like the most probable scenario. Should this happen at all, which it most likely won't.
For now, you'll just have to get your Patrick Stewart fix on Blunt Talk, which debuted over the weekend on Starz, and his reported role in Hugh Jackman's upcoming final Wolverine movie. And we're pretty excited to see him as the leader of a gang of white supremacist skinheads in The Green Room, too, that's certainly something different.
Your Daily Blend of Entertainment News