Star Trek Beyond Add Mysterious Female Character To Its Cast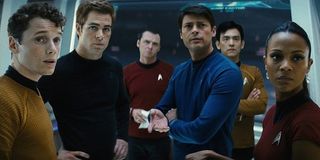 Though she's an up-and-coming young actress with an increasingly substantial body of work on her resume, you may not know Lydia Wilson. But with a new role in what promises to be a big Hollywood blockbuster tucked tightly into her belt, you may start to get an inkling, as she has joined the cast of director Justin Lin's upcoming Star Trek Beyond.
Variety reports that Wilson has joined the cast of Skydance and Paramount's latest Star Trek film. She's the latest addition to a call sheet that already includes returning stars Chris Pine, Zachary Quinto, Zoe Saldana, John Cho, Anton Yelchin, Simon Pegg, and Karl Urban, as well as fellow newcomers Idris Elba, Joe Taslim, and Sofia Boutella.
Born in England, the 31-year-old (or maybe she's 30, she was born in 1984, but no one seems to know what month) Wilson has a background in British theater and television, where she appeared in Misfits, Black Mirror, and Ripper Street. As far as movies go, her highest profile roles came in Richard Curtis' time travelling romantic comedy About Time and the sci-fi romance Never Let Me Go, so she's at least comfortable with the genre, which is a bonus.
There aren't any details about her role, but there have been reports of three substantial new female parts in the latest Star Trek adventure. We don't know if this is still the case after Simon Pegg, who plays Scotty in the rebooted franchise, came aboard to rewrite the script with Doug Jung, but if that still holds, it's possible Wilson could fill one of them.
The three new parts are said to be a fellow Starfleet captain who gives Captain Kirk (Pine) a run for his money, the president of the United Federation of Planets, and Bones' (Urban) ex-wife. Of those three, either the captain or Bones' ex make the most sense. Though she's a bit younger than most of the core cast, she's at least in the same age range; so you could buy her as a contemporary or a love interest. Playing an experienced politico like the leader of the Federation might be a bit of a stretch. Then again, it's entirely possible she has an entirely different part to play. We don't know what changes Pegg and Jung made, and to be honest, we don't have a ton of specific details.
What we do know is that Star Trek Beyond finally picks up with the crew of the starship Enterprise in the midst of their five year mission to explore the galaxy and discover new life. This is a welcome change from the last two movies, which basically revolved around Earth. We want some stars in our Star Trek. Idris Elba is the main villain this time around, and while early reports claimed that the antagonists were the Klingons, another welcome addition, that rumor has been denied, and it's been said Elba is not a Klingon. But you may remember the whole Benedict-Cumberbatch-isn't-Khan fiasco last time with Star Trek Into Darkness, so who the hell knows.
Star Trek Beyond is currently filming in Vancouver, British Columbia, and is scheduled for release next summer on July 8, 2016.
Your Daily Blend of Entertainment News
Thank you for signing up to CinemaBlend. You will receive a verification email shortly.
There was a problem. Please refresh the page and try again.