Patti Smith Adapting Her Memoir Just Kids Into A Screenplay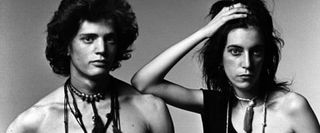 Patti Smith's memoir Just Kids, which won the National Book Award last year, is one of the most enjoyable reads imaginable, even if you know nothing about the musician called the Godmother of Punk. The evocatively written, deeply emotional book covers Smith's entire life, but is focused around her relationship with the photographer and artist Robert Mapplethorpe, which started out romantic until he came out; they continued living together in the Hotel Chelsea and remaining deeply entwined in each others' lives until his death from AIDS in 1989. The book chronicles their time living with grinding poverty in Brooklyn and the East Village, each of them arriving onto the art scene in the 70s and crossing paths with everyone from Andy Warhol to Janis Joplin. It's an amazing, amazing book, so much more than you'd expect from a rock star biography, and now Smith is opening up her story to an even bigger audience.
According to Deadline, Smith has teamed up with screenwriter John Logan to adapt Just Kids, writing the script on spec rather than setting it up with a major studio; it's a pretty good bet, though, that the finished product will be snapped up quickly. Logan recently won a Tony Award for writing Red, about the painter Mark Rothko, so he's got his own bona fides in the art world. He's been nominated for two Oscars, for The Aviator and Gladiator, but probably most important is the fact that he's collaborating with Smith, who's both an incredible writer and the best authority on their own story. The two were photographed together back in November at a tribute to Kathryn Bigelow at the Museum of Modern Art, so either they've been talking about this project for months or are friends in real life; my guess is it's some combination of both.
Though she's well recognized as a music legend and is enshrined in the Rock and Roll Hall of Fame, Smith has never been one to go after cash or fame, which is why you can't doubt her motivation in turning this into a movie. Done right, and with some impeccable casting for both the young Smith and Mapplethorpe, Just Kids could be a wonderful movie, a unique love story that's also a record of a much-romanticized bygone era in New York City. Of course, I have no idea who they could find to actually play Smith and Mapplethorpe-- look at how distinctive those kids are in the photo up top-- but that speculation will be half the fun. While we wait for the film to take shape, pick up Just Kids-- Amazon (opens in new tab) has it for just $8-- and understand what I'm so excited about.
Staff Writer at CinemaBlend
Your Daily Blend of Entertainment News
Thank you for signing up to CinemaBlend. You will receive a verification email shortly.
There was a problem. Please refresh the page and try again.