Paul Giamatti's Rhino Revealed In New Amazing Spider-Man 2 Photo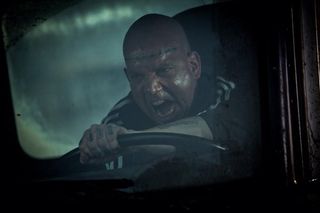 Robert Mitchum had them in Night of the Hunter. Elwood Blues had them in The Blues Brothers. Now Paul Giamatti is the latest intimidating dude to dabble in knuckle tattoos, as revealed in this first look at him playing The Rhino in The Amazing Spider-Man 2.
As with nearly every tidbit we've gotten from the set, this photo comes from director Marc Webb's Twitter feed, with the message "Say hello to Aleksei Sytsevich." That, of course, is the real name of The Rhino, a thug for hire coming from the former Soviet Union who gets involve in an experiment that makes his skin super strong and resilient. Those tattoos on Giamatti look like exactly what you'd expect from a Russian thug-- think Viggo Mortensen in Eastern Promises-- and the barbed wire forehead tattoo is especially intense. Of course, we got a tease about these tattoos not long ago-- back when production had just started, Webb tweeted a photo of a bunch of ring tattoos. We joked at the time that it suggested a connection between Spider-Man and Iron Man 3's The Mandarin, who in the comics fronts a terror organization called the Ten Rings. Now that we know the truth about Iron Man 3's version of The Mandarin, that joke is even more absurd in retrospect.
It's nice to see Giamatti at the center of one of Webb's tweets, since most of the film's other big new characters-- Dane DeHaan's Harry Osborn, Jamie Foxx's Electro, even whoever The Office's B.J. Novak is playing-- have been tweeted by Webb already. Who do you want to see revealed next? Or are you sick of Webb flooding us with so much information nearly a year before the movie comes out? Sound off below.
Staff Writer at CinemaBlend
Your Daily Blend of Entertainment News
Thank you for signing up to CinemaBlend. You will receive a verification email shortly.
There was a problem. Please refresh the page and try again.