Paul Rudd's Best Role: Knocked Up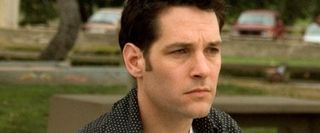 This week Paul Rudd grows a beard and some hippie hair and harasses his sisters in Our Idiot Brother, the Sundance comedy picked up by the Weinstein Company. It's only the latest in a string of slam-dunk comedic roles from Rudd, who started off as every 15-year-old's dream boyfriend in Clueless, then was rescued from a string of bland rom-com roles when he got picked up by seemingly every funny bunch of comedians making movies, from The State guys and Wet Hot American Summer to Judd Apatow and his ever-expanding empire.
But with so much Rudd goodness to enjoy, how can you possibly choose a favorite? Is there even any way to pit Anchorman's Brian Fantana against I Love You Man's Peter Klaven? It may be a foolish effort, but we here at Cinema Blend are going to try it anyway. Every day this week we'll present you with an argument for a certain role as being Paul Rudd's best. You can vote in the poll at the bottom and let us know your own thoughts, but remember, we're going in chronological order, so just because your favorite hasn't yet come up doesn't mean it won't (If you're holding your breath for How Do You Know, though, I can go ahead and let you down now). Katey kicked things off with an argument for Wet Hot American Summer, Sean moved over to the dramatic side for The Shape of Things, Mack compared breasts to bags of sand for The 40-Year-Old Virgin, and now Jesse supports Rudd as a surrogate Apatow family member in Knocked Up.
By now the team's been over how Paul Rudd managed shake off bland rom-com pretty boy roles to find himself a bright career with his turn to comedy. A common thread in all of the posts is that Paul Rudd is also a pretty great actor. Behind the goofy, awkward or idiotic roles he gets, he's a committed and talented artist who made me believe that he hated kissing burger mouths, smelled like big foot's dick or didn't want to watch School of Cock with his buddy Andy. For me though, Rudd has yet to be better than as Pete in Knocked Up.
If this series is a contest-- and why shouldn't it be-- here's my indisputable match point: Rudd's Pete and Leslie Mann's Debbie are getting an upcoming spin-off called This is Forty, meaning that this is the one and only film role in his entire career that has warranted another look. I guess I win? Contest aside, if you've seen Knocked Up you know that even in their supporting roles Paul Rudd and Leslie Mann are the best thing about that already solid movie-- they deserve the spinoff. Pete is maybe the first role in one of Wain's or Apatow's comedies that allowed Rudd to play a real person. He's not playing some showy role for laughs but instead just a really well developed character... who just also happens to hilariously steal scenes. Think about it. He's playing the husband of the co-lead's sister and he's the most memorable part of the movie!
There are so many great lines and moments packed into the relatively small number of scenes that Rudd's Pete actually has in the film-- which, unbelievably, is like ten, tops. From asking a constipated Debbie if she wants to have sex (well fuck!) or the hilariously defeated and deadpan way he admits that he'll never care as much about anything as his girls care about bubbles, what he describes as his tense, not funny version of Everybody Loves Raymond life is exactly what makes his role stand out as something special. He's playing it completely straight, which is always funnier than when someone is playing a character for laughs. There are countless other memorable scenes where he effortlessly let us into their contrived world that somehow lacks any hint of contrivance. Other gems like the sex-offender-computer-chicken-pox, gunning it to 88, picking Matsui or shrooming in Vegas only add to the long list of scenes that Rudd plays pitch perfectly and we continue to quote.
It must be easy for Rudd to pull this off with the comfort level that he's developed with someone like Judd Apatow. *I mean, he's basically just the good looking version of the writer-director in the film, playing husband to Apatow's wife and father to his kids. He's known his Knocked Up extended family for longer than one of those kids has been alive. There's a reason great directors repeatedly cast actors, because comfort can create this kind of lived-in, non-performance from Rudd. This is my favorite and the best role in his pretty rad career-- and I can't wait for This is Forty.
This poll is no longer available.
Your Daily Blend of Entertainment News