People's Choice 2012 Nominations Go To Harry Potter, Pirates, Bridesmaids, And The Help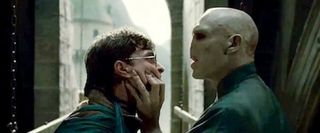 The people have voted and the nominations for People's Choice Awards 2012 are in. Unsurprisingly, movie fans love Harry Potter, Pirates of the Caribbean, and Transformers. And while Bridesmaids was recognized in numerous categories, the people seem to have disregarded Melissa McCarthy in the Favorite Female Comedy Actress.
The movie categories range from your standard favorites (movie, actor, actress) to some more specific categories, like Favorite Movie Actor Under 25 and Favorite Movie Animated Voice, which is actually a great category, considering voice-performances go under-appreciated at awards ceremonies. The Action movie category seems to indicate that standard action movies are a thing of the past, as the category seems to be mashed together with fantasy/comic films, which suggests that there's a shortage of traditional action movies to rival Fast Five this year. Renaming the category Favorite Huge Budget Film might be more fitting. Harry Potter and the Deathly Hallows Part 2 made the cut in the Action Movie category, however Captain America seems to have been forgotten.
Potter is well represented on the list, with the film up for Favorite Movie, Movie Cast, and Favorite Book Adaptation, and Daniel Radcliffe, up for two acting awards.
?As for the Favorite Comedic Actor and Actress categories, among the nominees are Adam Sandler, Ashton Kutcher, Bradley Cooper, Cameron Diaz, Emma Stone, and Mila Kunis. Somehow Melissa McCarthy's performance in Bridesmaids didn't make the list. You can read the full list of movie-related nominations (via MarketWatch.com) below.
Fans can vote online by going to PeoplesChoice.com
Read the list of TV nominations here.
People's Choice Awards 2012 will be broadcast live from the Nokia Theater in Los Angeles on Wednesday, January 11, 2012 (9:00-11)(9:ET/delayed PT) on CBS.