When The New Pete's Dragon Movie Will Take Place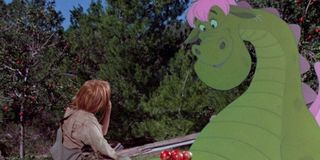 Bryce Dallas Howard is currently doing the rounds promoting her turn in the small upcoming flick Jurassic World, which is set to crawl into cinemas this Friday. While talking about dinosaurs, death, and screaming, though, the actress is also being asked about her future projects, one of which is Pete's Dragon. And during such a chat, she's revealed quite a bit about the remake, including the fact that it will be set in the 1980s - a much different setting than the original live-action/animation hybrid film.
Bryce Dallas Howard made this revelation while talking to Collider, and she clearly sounds hugely enthused about the film. Howard, who is the daughter of director Ron Howard, admitted that a big part of what drew her to star in the film is the fact that it takes place during the same period in which she grew up. She explained,
It's quite a big jump for Pete's Dragon to go from being set in the early 1900s to the 1980s. However, it's probably a sensible decision from those involved at Disney because this will allow the studio to further appeal to the demographic that originally fell in love with the film, while the period is also potentially more ripe for comedy as well. Once can also see this making Lowery's Pete's Dragon it's own entity and will help to differentiate it from the 1977 version, which is widely regarded as a bit tacky and woefully uneven.
Howard also spoke about how she adores just how innocent the David Lowery-directed film is, and she feels that this aura really lends itself to the film. In fact, while discussing Pete's Dragon, Howard also predicted that the upcoming adaptation is going to be a mixture of "poignant," "classic" and "sophisticated," before comparing the story to the work of legendary Japanese animator Hayao Miyazaki. Howard herself admitted that it will take some doing to ultimately match the iconic filmmaker, but she's immediately placed the film on quite a pedestal with her comments.
Whether it will actually match those heights remains to be seen, however, there's every chance that the story will emulate the efforts of 1977's Pete's Dragon. The film revolves around the titular orphan entering the delightfully named fishing town of Passamaquoddy Bay in Maine with only his dragon Elliot as his friend. Elliot can only really be seen by Pete, though, and he gets his owner into a huge amount of trouble because of his clumsiness.
Despite this whimsical nature of this story, Pete's Dragon isn't regarded as one of Disney's finest, and it only has a rather cult commodity amongst film enthusiasts. But that could be seen as an argument for remaking it, and if Howard's comments turn out to be true, then it will be regarded in the long-run as a smart move.
There's certainly something appealing about Pete's Dragon's story, and with an impressive cast on-board - which includes Robert Redford, Howard, Wes Bentley, Karl Urban, and two relatively unknowns in the shape of Oona Laurence and Oakes Fegley - if it's done right the film could find itself being embraced by a modern audience in a way that the original never was.
Pete's Dragon will be released on August 12, 2016.
Your Daily Blend of Entertainment News