Pete's Dragon Is Coming And It Might Star This Actress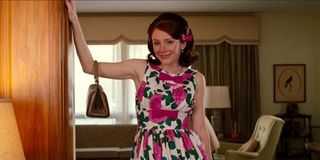 Disney's reboot of Pete's Dragon seems to have lined up its female lead. Bryce Dallas Howard is currently in early talks to play female lead in the miovie as the studio try to get everything in order before they steam ahead with production.
Variety was the first to report that Bryce Dallas Howard, who has previously starred in The Help and The Village, and is also the daughter of director Ron Howard, has entered negotiations to star in Pete's Dragon. The trade also went on to confirm that acting icon Robert Redford could be in line to continue his recent on-screen renaissance with the film as well. It's believed that the Sundance to Paul Newman's Butch in William Goldman's seminal 1969 masterpiece will star alongside Oakes Fegley, who will play the titular character. That's to say he will portray Pete - not the dragon. That's what I'm assuming anyway, because it would take a lot for Oakes Fegley to truly inhabit the role of the mythical beast, especially since he is around eight years old.
David Lowery is set to direct this reimaging of the legendary 1977 live-action/animated musical. He will be working from a script that was written by Toby Halbrooks with Jim Whitaker producing. Unfortunately for fans of the original, Variety went on to note that according to their sources there won't be any music in the upcoming remake and it will instead possess a straight narrative. Which is a tad sad really. While Pete's Dragon is far from one of Walt Disney Studios' masterpieces, it's still incredibly endearing. Especially when it comes to the character of Elliot the dragon, who is preposterously loveable despite his clumsy ways. And the likes of "Candle On The Water" and "Boo Bop Bop Bop Bop (I Love You, Too)" really helped to evoke the warm glow that permeates throughout the film. In fact, "Candle On The Water" was even nominated for an Academy Award in 1977 for Best Original Song. The fact that the tepid and depressing "You Light Up My Life" ultimately beat it just adds further insult to injury.
Will a reboot of Pete's Dragon actually work? It might. The original, especially on repeat viewings as an adult, is hard to watch at times. The plot is weak, the supporting actors are shoddy and it all just seems like a sly rip-off of previous Disney films. If Tony Halbrooks can provide a sturdy script and Ain't Them Bodies Saints director David Lowery can adjust to making a children's film, however, then the sublimely talented Bryce Dallas Howard and Robert Redford should be able to do the rest. Let's just hope that the animation for Elliot is a bit more seamless this time round, though.
Your Daily Blend of Entertainment News
Your Daily Blend of Entertainment News
Thank you for signing up to CinemaBlend. You will receive a verification email shortly.
There was a problem. Please refresh the page and try again.