Pete's Dragon Reboot May Go To Ain't Them Bodies Saints Director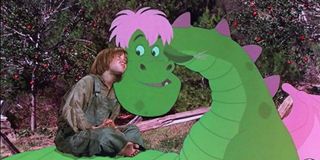 All the stories you loved as a kid are getting resurrected. Maleficent. The Jungle Book. Jem. Teenage Mutant Ninja Turtles. And now Pete's Dragon has joined this slate of revamps, reboots and remakes. But before you begin snarking that you know what to expect from this new Pete's Dragon, you should consider who Disney is wooing to helm it.
The Wrap reports Disney is in talks with writer-director David Lowery to helm its rebooted Pete's Dragon. Lowery made his directorial debut in 2005 with a little seen drama called Deadroom. After helming a string of shorts, he returned to features in 2009 with St. Nick, a drama that received some acclaim but no major notice. In 2013, Lowery at long last broke through with Ain't Them Bodies Saints. A romantic drama that starred Rooney Mara, Casey Affleck and Ben Foster, Ain't Them Bodies Saints premiered at the Sundance Film Festival and went on to win widespread critical praise, with some calling Lowery the next Terrence Malick. Now, imagine Malick making a Disney movie.
Lowery first got involved with Pete's Dragon back in March of 2013. At the time, he and his writing partner Toby Halbrooks were hired by Disney to draft the screenplay for this reimagined Pete's Dragon. The original 1977 film featured appearances by Mickey Rooney, Red Buttons, Shelley Winters, Helen Reddy and Jim Dale. Famously it mingled live-action actors with a cartoon dragon to tell the story of a little boy named Pete, and his best friend, Elliot, an oft-invisible dragon. While the original Pete's Dragon was a musical that followed Pete's quest to find a loving family, early reports claimed Halbrooks and Lowery were being charged to change the central story at its very core, and cutting the musical numbers completely.
On its surface, Lowery and Pete's Dragon seems a surprising pairing, but as The Wrap points out Lowery's second film (St. Nick) focused on runaway children being forced to survive on their own. Not only does that film share narrative similarities with the original Pete's Dragon, but it means Lowery has experience working with child actors. Still, his cerebral aesthetic is one we wouldn't typically associate with Disney remakes. However, with Marvel movies and Frozen making money hand over fist for the studio, they can certainly afford to take a risk with something out of the box.
For now we have to wait to see if Lowery signs on, and if he does, how that might affect the production schedule of The Yellow Birds, an adaptation of the Kevin Powers novel he's lined up for his next project. Insiders on Pete's Dragon seem to suggest Disney doesn't want to wait, so either Yellow Birds will have to or Lowery might leave this dragon tale for some other helmer. However, seeing as he and Halbrook hammered out the script, that seems unlikely to us.
Your Daily Blend of Entertainment News
Staff writer at CinemaBlend.