Disney's Pete's Dragon Just Added 2 Major Actors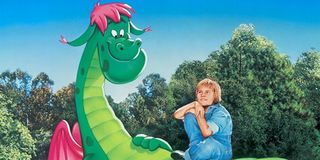 The upcoming remake of the Disney live-action/animation hybrid film, Pete's Dragon continues to horde what appears to be an increasingly impressive cast within its den. It has been reported that Dexter star Michael C. Hall and The Hunger Games star Wes Bentley are now on board.
Recent reports from TheWrap confirm Bentley's addition to the cast and Variety would subsequently drop the news of Hall's involvement. The duo will join Robert Redford, Bryce Dallas Howard, and young Oakes Fegley, who will play the titular Pete.
The film will attempt to modernize the original 1977 Disney film set in a small fishing town in the early 1900's about a boy named Pete who is stuck in a bad situation with a wicked foster family of obnoxious yokels, the Gogans. While trying to run away, he is rescued by a friendly dragon named Elliott, who has the power to turn invisible, specifically around adults. (Because if we've learned anything from family movies, the plot just can't afford for kids to be believed.) Slap-happy shenanigans ensue all around the town. Fish are disappearing and the townsfolk are looking for a scapegoat. (Because that's what townsfolk tend to do in movies.) Pete gets friendly with a lighthouse lady whose fiancé is missing at sea and protects him from all the Elliott-related adversity, despite not being initially sure if the dragon isn't just the product of a lonely child's imagination.
In the director's chair for the new Pete's Dragon will be David Lowery, who helmed the 2013 romantic thriller, Ain't Them Bodies Saints. The film will be based off a script written by Lowery and Toby Halbrooks. While there are expected contextual changes to the story (it is a 38-year-old Disney film, after all), the primary alleged change is that the story will now take place in a logging village, as opposed to a fishing village like the original.
As far as remakes go, this one presents some interesting challenges. Besides undoubtedly being a product of its time, the original film was also a musical. Given the more serious dramatic tone of director David Lowery's films, clearly Disney didn't bring him on board to put serious actors on screen singing jaunty tunes with saccharine grins on their faces. In fact, if the dramatic focus on child runaways in Lowery's 2009 film, St. Nick, is any indication, then a great deal of focus will likely be placed on the dramatic aspects of Pete's alienation from all the adult figures in his life.
That kind of description evokes memories of Spike Jonze's 2009 adaptation of children's book essential, Where the Wild Things Are. There's even strikingly similar themes to the overall stories. With that said, I cannot imagine that it will be quite the same bleakly picturesque project and will still likely contain the famous Disney stamp of optimism and (merchandise-friendly) fun.
David Lowery's Pete's Dragon remake is currently penciled in for a 2016 release.
Your Daily Blend of Entertainment News
Thank you for signing up to CinemaBlend. You will receive a verification email shortly.
There was a problem. Please refresh the page and try again.