Disney's Pete's Dragon Remake Just Got A Bit More Kickass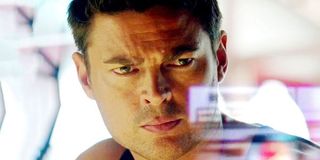 The upcoming remake of the classic hybrid live-action/animated Disney film, Pete's Dragon has just received a quick injection of awesomeness and badassery! In a bit of a casting swap, the film now adds the one and only Karl Urban. He will replace the recently-announced addition, Michael C. Hall.
According to a scoop from The Wrap, Urban will join the cast consisting of young Oakes Fegley, Wes Bentley, Bryce Dallas Howard and Robert Redford for what will be a modernized take on the 1977 musical movie about a young boy's friendship with a dragon with the unexplainable power to turn invisible, specifically around any adult that would believe he exists. There has been no reported reason given as of yet regarding what made Hall exit the project just over two weeks after he had been initially cast.
As of yet, it is unknown what role Urban will play. Yet, the casting swap of Urban for Hall could be perceived as a sign of where this head-scratching remake is headed. Urban is known from his work as the current Star Trek franchise's Dr. McCoy and a veteran of action/adventure standards like The Lord of the Rings trilogy, the Riddick films, and cult-classics like Pathfinder and his underperforming, but adored update of the comic book property previously performed (in an unintentionally humorous way) by Sylvester Stallone with Dredd. While Michael C. Hall brought the badness on TV's Dexter, he is mostly a drama guy. The acquisition of Urban likely means that the film will be leaning more heavily on the "action" aspect than such a property might have led us to believe. The Kiwi King of Kick-Ass (he's free to take up that nickname, by the way), certainly knows his way around films of the blue-screen-bonanza, big-budget popcorn variety. Even his recent work on television on the (unjustly) cancelled Fox sci-fi drama, Almost Human evokes the typical Urban-esque imagery of grizzled, sometimes drunken roughness serving as the exterior to a heroic personality that will wreck evil at any cost.
The original 1977 film will certainly stand in stark contrast to whatever we get with this remake. It was essentially a puffed-up serving of signature Disney optimism full of the kind of musical numbers for which there are no audience in today's movie market. However, director, David Lowery, who sat behind the camera for Ain't Them Bodies Saint, the bleak 2013 Texas love story with Rooney Mara and Casey Affleck, was clearly brought on board for reasons other than feel-good "ho-ho" hums that will make contemporary audiences return their popcorn and soda the old-fashioned way on to the adjacent floor, where litigious old ladies will slip on it and sue the theater.
Clearly, something resembling the heart of the original will persevere in this new version. It told the story of a young boy named Pete who, mistreated and stuck with a foster family of yokels, runs away, only to make the acquaintance of a giant green and purple dragon named Elliott who comes to the rescue of the wayward titular urchin. While in the film, Pete stays with a lighthouse lady in his fishing village town, the new film will supposedly change up the locale to a logging village. It's probably a safe bet that Karl Urban will be a badass axe-wielding lumberjack who will see some action defending the new Pete (Oakes Fegley) from whatever version of his unscrupulous foster family is looking to reclaim him. (Or maybe worse.)
The Pete's Dragon remake will attempt to make itself opaque to adults and kids alike at theaters on August 12, 2016.