Peter Dinklage Might Be A Leprechaun In This Unusual-Sounding Comedy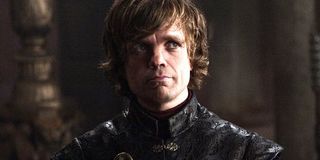 Actor, Peter Dinklage appears to be chasing a proverbial pot of gold down the rainbow of his upcoming new role. In a concept that sounds almost insensitively facetious, the Game of Thrones star has just signed on to a comedy film called O'Lucky Day in which he will play a Leprechaun. – At least, a character who is attempting to pass himself off as one of the diminutive mythical Irish gold hoarders.
According to a report from Deadline, the Emmy winner's starring role in O'Lucky Day will be as a roguish type character who clearly has some kind of financial incentive to make people think that he's actually a legendary being whose current status in pop culture is probably best known for gracing the hearts, stars and clover-covered boxes of Lucky Charms. Next to nothing is known about this film, however, according to the report's description of the character, Dinklage will play:
The extremely un-PC shock value of a dignified dwarf actor of Dinklage's caliber to even be associated with the idea of playing a Leprechaun seems to be a joke in itself. However, given the person who penned the script, it seems part and parcel to the bourgeoning style of one Andrew Dodge. The scribe's previous (and thus far, only) project is a 2014 low-key raunchy comedy called Bad Words, starring Jason Bateman as an obnoxious, sarcastic 40-year-old man who chases a quixotically sad glory by entering himself into children's spelling bees, exercising a loophole that he never passed the 8th grade. In all likelihood, given the scant bit of information that we know, O'Lucky Day will look to follow a similar paradigm. Just to give you an idea, here's the work-safe version of the trailer (certainly, compared to the Red Band version) for the VERY R-rated comedy.
Bad Words, besides attempting to add "autofellatio" to standard lexicons, would also serve as Bateman's directorial debut. It was pretty much what O'Lucky Day sounds to be: A film following a broken, offensive, angry protagonist, who serendipitously runs into an opportunity at redemption, all while gleefully breaking most rules of current society's decorum regarding perceived racism, sexism and overall blue humor. – Essentially, a film cut from the same cloth as Bad Santa and Bad Teacher which probably fails to sport a similar title only due to the logistical difficulty of calling it "Bad Spelling Bee Guy."
Likewise, O'Lucky Day, which probably could get away with calling itself "Bad Leprechaun," will likely have Dinklage, Game of Thrones' "God of Tits and Wine," displayed in all his comedic, potentially offensive glory, only to take a similar redemptive journey. However, with Rock of Ages and Hairspray director, Adam Shankman at the helm, all of that potential offensiveness will be in the hands of a more seasoned storyteller, who's also been known to inject a musical number here and there, playing to his own roots.
No official release date has been given for O'Lucky Day, but it should be frantically protecting its Lucky Charms at theaters sometime in 2016.
Your Daily Blend of Entertainment News