How The Hell Were Peter Dinklage, Oprah, Sandra Bullock And Jon Hamm Up For The Same Role?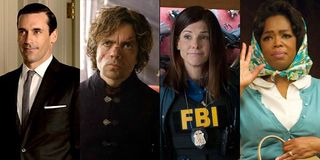 This may sound like the sloppy setup to a bad joke that has its characters walking into a bar, but it seems that Peter Dinklage, Oprah Winfrey, Sandra Bullock and Jon Hamm were apparently all in contention for the SAME role in the upcoming comedy Michelle Darnell, starring Melissa McCarthy. You may be asking yourself, what kind of lazy, lackadaisical, spit-balling casting director did they hire for this film? However, it seems that the role in question was extremely flexible when it came to the attributes of the actor who eventually landed the part. And now that the dust has settled, one name has risen above all the others: Peter Dinklage.
According to a report from Variety, the McCarthy comedic vehicle, Michelle Darnell will have the future Ghostbusters star playing a kind of quasi-Martha Stewart-type famous industrialist. The film was looking for an antagonist to feature opposite of her, and apparently, exactly WHAT that antagonist needed to be was rather vague. Thus, the eclectic mix of names like Dinklage, Bullock and Hamm were floating around as possibilities for nabbing this adversarial assignment.Evidently it was eventually decided that the right direction to go was with Dinklage
It's currently unknown exactly what kind of role the actor will play as the villain in the film, but McCarthy's Michelle Darnell will reportedly start the film as a "titan of industry" who ends up in prison for insider trading (a parallel to Stewart that is not exactly circumstantial). Upon her release, she must attempt to rehabilitate her public image and become "America's latest sweetheart."
As far as the currently ambiguous villain goes, any Game of Thrones fan will be glad to hear about the casting of Peter Dinklage, who brings plenty of comedic experience and also graced the screen as a villain-type in last year's X-Men: Days of Future Past. Plus, his superb work on Game of Thrones as Tyrion Lannister - which is a role mixed with both humor and fury - nabbed him a Primetime Emmy in 2011. (Although, he really should have won again after last year's amazing run.)
While Michelle Darnelle is just a comedy and seriously menacing dramatic gravitas may not really be required, it would have been extremely difficult to see Oprah Winfrey as a believable villain in the film; even if you don't even happen to like her in real life. (Give ME a damn car, already!) The same can be saod for the ultra-talented Oscar-winning, money-raking Sandra Bullock (McCarthy's The Heat co-star.) One could imagine that the role would have been wasting her more natural talents. However, with Jon Hamm, we could have had someone who knows how to push all the right "douchebag" buttons to make a perfectly, though hilariously hateable comedic antagonist. I could totally see him play some sort of scientifically-engineered offspring of James Bond and William Zabka's "Johnny Lawrence" from The Karate Kid.
Looking to set an ass-groove in the director's chair will be Ben Falcone, who is certainly no stranger to the world of contemporary comedies - specifically ones that star his wife, Melissa McCarthy. He has appeared in films like Identity Thief, The Heat and Bridesmaids alongside the actress, and in addition to cameoing in last year's Tammy, he also co-wrote and directed that film. He is expected to get those same creative credits for Michelle Darnell.
Michelle Darnell will look to have Melissa McCarthy square off against a former Hand of the King when it hits theaters on April 8, 2016.
Your Daily Blend of Entertainment News