Peter Jackson Explains Where The Hobbit Would Have Been Split As Two Movies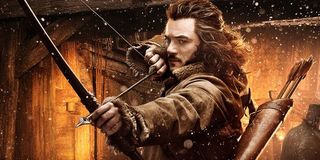 The second installment of Peter Jackson's Hobbit trilogy, The Hobbit: The Desolation of Smaug, has just rolled into theaters, and with it the battle over whether or not the story should have been split into three films continues to wage. Some J.R.R. Tolkien fans are elated that Jackson and his fellow screenwriters Fran Walsh and Philippa Boyens chose to not only adapt the short Tolkien novel, but also much of its 125 pages of appendices, adding on a new character for good measure. Others, myself included, wonder if this wasn't overkill, where more is just more, not necessarily better. Well, let's introduce some new information into this debate, specifically Jackson's confession on where the first film was originally meant to end.
In an interview with EW, Anthony Breznican asks Jackson directly, where the split from film one and film two was originally meant to fall. Jackson explained:
In the interview, which you can listen to below, Jackson also aims to correct the assertion that New Line executives pushed for the pair of films to be expanded into a trilogy. As he stated via Facebook when the news was first announced, it was not the studio's idea to make The Hobbit a trilogy, but a realization that came to him, Boyen and Walsh as they were attempting to cut the first film. He recalled, "That happened right at the very end of production more or less, very, very close to it. We were looking at what we'd shot and we were going to end up cutting a lot of the movie out if we had to to make it two. And also structurally it just wasn't feeling very good anymore."
The studio's reps were due to visit and see a cut of the film, and this trio of collaborators sat down beforehand to discuss the radical idea of converting their in-post two films into three. "People think it's a cold-blooded cash grab from the studio, and no it didn't come from the studio at all," Jackson details, "It came from Fran, Philipa, and I."
From there they came up with a game plan, before presenting it to the studio and asking for more money and additional shooting. "We just thought there's a way that we could structure this that might be more satisfying, that might give us a sense of the beginning, the middle and the end. It might just tick all the boxes that it doesn't seem to be doing at the moment...and their faces kind of froze because we were hitting them up with not just the fact that it had become three movies, but we also wanted to do a bit more shooting during the year to fill out a bit more of the storylines because we liked where some of it was going but we couldn't necessarily shoot everything that we wanted on our original plan."
Of course, the execs were shocked. This kind of news isn't an everyday occurrence. But I'm sure they soon realized the financial advantage of stretching out The Hobbit over three holiday seasons, each one potentially renewing interest in the previous entry as well as The Lord of the Rings trilogy. So far so good. The first film, The Hobbit: An Unexpected Journey earned an astounding $1 billion worldwide, making it the 16th highest grossing film worldwide. And The Hobbit: The Desolation of Smaug is opening strong with $73 million, which while less than early projections and about $11 million less than its precursor made on opening, is still enough to win the weekend and pad the studios coffers.
This poll is no longer available.
Staff writer at CinemaBlend.
Your Daily Blend of Entertainment News
Thank you for signing up to CinemaBlend. You will receive a verification email shortly.
There was a problem. Please refresh the page and try again.