Peter Jackson Confirms Third Hobbit Film For Summer 2014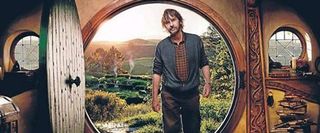 After weeks of rumors that Peter Jackson and his collaborators would take on the massive challenge of yet another movie set in Middle Earth, the man himself has confirmed it in his typical low-key, democratic way: via Facebook post. On his official page Jackson wrote a brief, thoughtful announcement confirming that "two films will become three," and that a third film will allow him to tell more of "the story of Bilbo Baggins, the Wizard Gandalf, the Dwarves of Erebor, the rise of Necromancer and the Battle of Dol Guldur." You can read the full announcement below:
If you look at it from the cynical Hollywood point of view, this is no surprise, as the final installments of many franchises-- like Harry Potter, Twilight and The Hunger Games-- have been split in two, essentially doubling the possible profits. But fans of J.R.R. Tolkien's books know the world of Middle Earth is dense and complicated enough that this story might actually merit it-- especially if Jackson is digging into all the supplemental materials that existed outside of the actual Hobbit book.
The third, untitled Hobbit film will be released in the summer of 2014, so less than six months after the release of There and Back Again, which is scheduled for December 2013. We'll get our first look at Jackson's new take on Middle Earth this December, when The Hobbit: An Unexpected Journey comes to theaters December 14.
Staff Writer at CinemaBlend
Your Daily Blend of Entertainment News
Thank you for signing up to CinemaBlend. You will receive a verification email shortly.
There was a problem. Please refresh the page and try again.