Pierce Brosnan's The November Man 2 Has Been Greenlit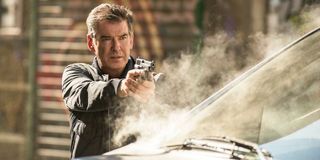 We don't know a ton about The November Man at the moment. We know that director Roger Donaldson's action-thriller comes out next Friday, August 27, and that it stars Pierce Brosnan in an ass-kicking kind of role that he left behind when he bailed on the Bond franchise. But we're willing to gamble on one thing regarding The November Man, sight unseen. It's probably pretty damn good, because a sequel just got fast-tracked over at Relativity Studios.
Coming Soon reports that Relativity will head into pre-production on The November Man 2 shortly after the initial film opens in theaters. The films are based on a popular series of spy novels penned by Bill Granger. GoodReads lists the 13 current titles in the series, meaning that if audiences devour Pierce Brosnan in The November Man later this month, and the initial sequel does equally well, Relativity can stay in the franchise business for quite some time.
Of course, tell that to Tom Cruise, who struggled to get audiences to watch his stellar adaptation of Lee Childs' famous Jack Reacher books.
Maybe Pierce Brosnan will have better luck. According to the plot synopsis, he has been tapped to play ex-CIA agent Peter Devereaux, who goes by the code name "The November Man." Probably because Reggie Jackson already had "Mr. October." In this debut story, Devereaux gets pulled into a personal game of cat-and-mouse with a former "pupil." French actress and model Olga Kurylenko – who, ironically, played opposite Daniel Craig in the 007 thriller Quantum of Solace -- co-stars.
The fact that Relativity wants to stay in the November Man game bodes very well for this debut film, and suddenly makes me more excited to check it out. Roger Donaldson knows his way around a Movie-Star-Driven action picture, having helmed The Bounty (1984), No Way Out (1987), Dante's Peek (also with Brosnan) and 2008's The Bank Job, to name just a few. His movies are lean and hard, and if Relativity can bring him back for the sequel, all the better.
Here is the latest trailer for The November Man.
The movie opens in theaters on Aug. 27. We'll keep you posted on the sequel as it develops.
Movie junkie. Infatuated with comic-book films. ReelBlend cohost. Resident dad. Extroverted introvert. Wants to see the Snyder Cut. Managing Director at CinemaBlend.
Your Daily Blend of Entertainment News
Thank you for signing up to CinemaBlend. You will receive a verification email shortly.
There was a problem. Please refresh the page and try again.