Pierce Brosnan Sings Abba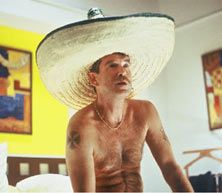 There was a very brief window in America when movie musicals saw a resurgence and were, for a time, both popular and profitable. That period started with Moulin Rouge, and ended with Chicago. Like a charging elephant that's just been shot between the eyes, musicals are dead, Hollywood just keeps on moving forward with them anyway.
The next rampaging pachyderm to be sent line-dancing to its doom will be a movie version of the Abba based Broadway play Mamma Mia!. Meryl Streep is already on board the movie, but what's shocking is that Variety says Pierce Brosnan has just been cast to star opposite her.
Pierce will play Sam, one of three men summoned to a Greek isle by a young woman who believes one of them is her father. As ideas go, I'd rate the thought of James Bond singing and dancing to Abba tunes as only slightly worse than Wolverine doing it. Since Jackman has already crossed that line, I guess there's no point in bitching about 007 joining in the dubious fun. Maybe they can have him shoot someone offstage or something, just to Bond things up.
Can Brosnan even sing? He's done a few Irish ditties on screen, but that's really about the extent of it. Pierce says he took the part mostly to be with Meryl. Where she goes, Hollywood smells Oscars ya know. He says, "I said yes right away because it meant working with Meryl Streep. What a kick in the pants, to be able to go off and spend time with Meryl on some Greek island, singing ABBA songs." Oddly enough, as a guy who thinks of him as the definitive James Bond, a kick in the pants is exactly the way I would have described it.
Your Daily Blend of Entertainment News
Thank you for signing up to CinemaBlend. You will receive a verification email shortly.
There was a problem. Please refresh the page and try again.