Pink Making Her Acting Debut In Sex Addict Dramedy Thanks For Sharing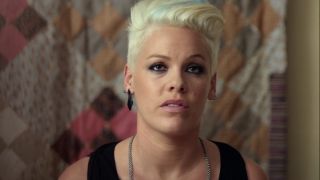 (Image credit: Lionsgate)
UPDATE: As several commenters have pointed out, Pink has acted once before, in the horror movie Catacombs. But this role is being trumpeted as her "first featured role on the big screen," so it will be a much bigger part for the singer. Sorry for the confusion.
Pink's music shows up all the time in the movies-- in fact, I think I'll boycott the next trailer to use "Raise Your Glass" on sheer principle. But the multiple Grammy winner has yet to cross over into an acting career, even though it's a pretty common step from music stardom, along with "trip to rehab" and "ill-fated perfume line." Now, 10 years into her hugely successful career, Pink is finally becoming a crossover artist, and re-embracing her real name to do it. I received a press release this morning announcing that Alecia Moore was the latest to be cast in Stuart Blumberg's Thanks For Sharing, and it definitely took me a good long while to realize that meant Pink was about to make her acting debut.
And though Pink-- excuse me, Ms. Moore-- will be the only Grammy winner in the cast, she's far from the only huge name. The cast already includes Gwyneth Paltrow, Book of Mormon star Josh Gad, Tim Robbins, Joely Richardson, Patrick Fugit and Mark Ruffalo, most of them playing recovering sex addicts who help each other overcome their demons. It's unclear from the release if Moore's character Dede will also be an addict; all we know is that she's "a kindred spirit to Gad's character, Neil." Production already started last week, but today is Moore's first day on the set.
If Blumberg's name seems vaguely familiar to, that's because he was the co-writer of The Kids Are All Right, nominated alongside Lisa Cholodenko for a Best Original Screenplay Oscar last year. He's making his directorial debut on the project, and while it's probably the Kids credit that helped him draw in such huge talent, it's a strong sign when someone is making their first directorial outing with a great cast to back them up. Who knows if Pink has the acting talent to keep up, but it's always fascinating to see a musician giving acting a shot for the first time.
Your Daily Blend of Entertainment News
Staff Writer at CinemaBlend