Piranha 3D Sequel Headed For Rewrites, Tara Reid Cast?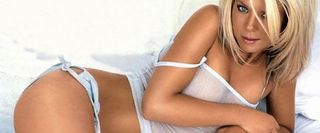 Tara Reid may have joined the cast of the sequel to Piranha 3D, currently titled Piranha 3DD, and that seems perfect. It's perfect because Piranha is not the kind of movie that asks to be, or should be taken seriously, and because pretty much no one takes Tara Reid seriously anymore, if they think of her at all.
The news of her involvement comes from Perez (via Dark Horizons) where they don't seem to mention the fact that the movie hasn't started shooting or casting yet, making her involvement strange. The normally reliable guys at DH don't cite a source for their rumor either and it's worth noting that Moviehole says she's not involved at all.
What MH says is more certain, is that Highlander: Endgame writer Joel Soisson has been brought in to do a rewrite on the Piranha sequel script. Maybe that's a good idea since nobody took Highlander: Endgame seriously either, but that's because it's terrible, not because it's trying to be over the top and ridiculous. How bad must the script be when you think the guy who wrote Highlander: Endgame can improve it? The movie's release date has been pushed back a few months from September to November 23rd to give him more time for rewrites. This doesn't bode well.
Your Daily Blend of Entertainment News