Pitch Perfect 3 May Lose Elizabeth Banks To This YA Fantasy Film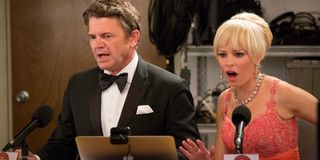 Elizabeth Banks recently proved to the world that she can oversee a Hollywood studio film with Pitch Perfect 2. But rather than resting on her laurels, Banks has decided that instead of returning for Pitch Perfect 3 she wants to helm a completely new project in the shape of young adult novel adaptation Red Queen.
According to Deadline, Elizabeth Banks has impressed the folks over at Universal with her handling of Pitch Perfect 2. So much so that they asked her to come aboard and bring to fruition an adaptation of Victoria Aveyard's novel Red Queen. Banks is going to work in conjunction with her Brownstone Productions producing partner Max Handelman to oversee the film, while the script is being developed Breaking Bad's Gennifer Hutchison.
Red Queen revolves around a 17-year-old girl who lives in world that's class system is entirely based around blood. The silver-blooded brood are regarded as the upper class and have superhuman powers. Meanwhile, the lower class have red blood and serve to their silver-blooded peers. Red Queen's protagonist is Red, a commoner who has to live off the scraps that life provides her and often resorts to stealing in order to survive in her rural village.
A twist of fate leads her to end up in front of a Silver court, where she has to go before a variety of nobles, princes, and kings. But rather than spelling the end for Red this proves to be a blessing as she soon discovers that she has her own special power. The emergence of this ability leads her to be drawn into the intriguing world of the king's palace.
It's hardly surprising that Universal have decided to proceed with Red Queen. There is obviously huge potential for the book to blossom into its own full-fledged franchise, much in the same way that The Hunger Games has done for Lionsgate. In the shape of Elizabeth Banks they have an actress who played a key figure in the rise of The Hunger Games films, who has also now shown, with Pitch Perfect 2, that she can direct a mainstream Hollywood flick that has doubled the box office success of the original.
Here's the problem though: Elizabeth Banks didn't really do that great a job with Pitch Perfect 2. Don't get me wrong, the musical comedy was an enjoyable enough romp that managed to eke out enough sweetness and jokes because of the performances of Anna Kendrick and Rebel Wilson. Unfortunately, it was poorly structured and plotted. Banks is still a novice director, and it would make more sense for her to return for Pitch Perfect 3 to hone her craft rather than going too big too soon. I'm still rooting for her, but I'm worried that she's going to sink into the abyss of the Hollywood blockbuster rather than swim.
Your Daily Blend of Entertainment News