A Complete List Of Pitch Perfect 2's Aca-Awesome Celebrity Cameos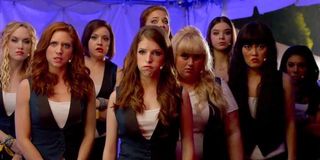 The aca-awesome tones of the Barden Bellas ruled the box office over the weekend as Pitch Perfect 2 took on all comers and emerged victorious. The sequel to the surprise 2012 hit about an underdog collegiate a cappella group made more than $70 million in its debut, dusting Mad Max: Fury Road's $44 million opening take, and knocking Marvel's superhero extravaganza Avengers: Age of Ultron out of the top slot for the first time since its release.
While it may not be as strong a movie as the first film—there's not as much story or character development, and it relies heavily on the bond established with these people last time—Pitch Perfect 2 is still a damn blast. The musical numbers are as good as you hope, and the jokes land more often than they don't. One fun element is a number of cameos, some surprising, some less so, and to celebrate the success of Pitch Perfect 2, we thought we'd run through them real quick.
It should go without saying, but there are some SERIOUS SPOILERS for Pitch Perfect 2 beyond this point. You've been aca-warned.
One quick note: Part of the plot revolves around the Bellas, now the rock stars of collegiate a cappella, being disgraced in very public fashion. It involves Rebel Wilson's Fat Amy dangling from the ceiling and a lack of undergarments. This becomes big news, and in an early montage there are faux clips of various news shows, like The View, Today, and even Jimmy Kimmel, covering the incident. We decided to leave these out because they're essentially just these people pretending to do their day jobs, and there are enough cameos that are way more fun to talk about.
Pentatonix
You can't have a movie about a cappella without an appearance from arguably the most famous a cappella group in the world, Pentatonix. During the climactic scene at the world championship of a cappella, which is a thing that really happens, where the Bellas face off with the German aca-super group Das Sound Machine, the winners of NBC's The Sing Off—Avi Kaplan, Kirstie Maldonado, Scott Hoying, Mitch Grassi, and Kevin Olusola—play the Canadian champions. They start off a montage to Journey's "Any Way You Want It" that goes down in a multiple languages and features a number of other real life a cappella groups.
Robin Roberts
When Good Morning America host Robin Roberts shows up on screen for a moment, it got way more of a reaction from the audience than you might expect. Not only is she a famous TV journalist, we now know that she is a Barden Bella herself. As the Bella's take the stage to sing an original song, "Flashlight," written by new addition Emily (Hailee Steinfeld), generations of former members take the stage along with the current crew. It's a big emotional peak that cements their ultimate victory and hints at the larger history of the group (is Pitch Perfect going to get a Marvel-esque expanded universe now?), and Roberts is one of the trailblazers, donning the group's signature blue and yellow handkerchief for one last aca-hurrah.
Snoop Dog
This is, hands down, my favorite cameo out of an awesomely eclectic group of such appearances. Not only does Snoop Dogg show up—I'll watch and listen to him do just about anything—but he's in the studio recording a mash up of classic Christmas songs. A big plot point is Beca (Anna Kendrick) finally trying to break into the music business by interning at a recording studio run by Keegan-Michael Key's neurotic producer. Relegated to getting coffee and performing menial tasks, when she sees an opportunity to make her mark, she takes it. And if you never knew that you wanted to see Anna Kendrick do a mash up of holiday songs with Snoop Dog, you really need to add that to your bucket list. It's delightful, and this is the only Christmas album I can imagine willingly listening to.
David Cross
This isn't a huge surprise since he shows up in a number of trailers and clips, but David Cross, playing the world's biggest a cappella enthusiast, is the impetus behind what may be the best scene in Pitch Perfect 2. The wealthy aca-nut stages an epic vocal throwdown in his home that takes the game from the Riff Off in the first movie and kicks it up a notch with categories like "90s Hip Hop Jams," "Songs About Butts," and "I Dated John Mayer." (The last category has a fun reveal of its own.) The reason for this scene existing in the movie is a little specious, but it's so damn good that you don't care that it's a bit overlong and doesn't accomplish much in a narrative sense. And Cross lords over the whole thing like a maniacal wizard in an awesome bathrobe.
The Voice Coaches
Bumper Allen (Adam Devine) is still trying to break into the music biz on his own, and, after taking a slight detour for love, during the credits he winds up on NBC's singing competition The Voice in a scene reportedly shot during the current season. Belting out "All Of Me," he catches Blake Shelton's attention in short order, though the country star regrets that decision almost immediately. The rest of the crew, Pharell, Christina Aguilera, and Adam Levine all join the party by turning their chairs around, though after an awkward exchange—would you expect anything less from Bumper?—Aguilera has some definite second thoughts about the choice she made.
Barack And Michelle Obama
This isn't your standard cameo, as it's comprised of what appears to be news footage taken elsewhere and inserted into the movie, but it's hilarious and kind of perfect. Fat Amy having a massive wardrobe malfunction and flashing her privates at the most powerful man in the world, Barack Obama, and the First Lady Michelle Obama, even if it's just archival footage, is the inciting incident of the whole movie. And if you're going to go for it, you might as well go big. You're just not going to get the same reaction and public outrage if you flash Joe Biden or some random senator. Maybe if this had happened during half time at the Super Bowl, but that's already been done, and the Bellas are all about breaking new ground.
Joe Lo Truglio/Reggie Watts/Jason Jones/John Hodgman
The Tonehangers have a memorable scene in Pitch Perfect, especially Joe Lo Truglio begging Fat Amy to use a trophy in inappropriate ways, and they're back for another in Pitch Perfect 2, though with a mostly new lineup. Lo Truglio and Jason Jones are still getting off performing their oral magic, but they've enlisted a couple of replacements for Har Mar Superstar and Donald Faison in Comedy Bang! Bang! star Reggie Watts and The Daily Show regular John Hodgman. With Bumper Allen joining the team—shocking, I know—they're as solid as ever, chasing that dream, with some sweet dance moves to up the ante at the Riff Off.
The Green Bay Packers
Again, this one isn't a surprise, as numerous trailers and clips gave it away early on, but when the Green Bay Packers show up to compete in the Riff Off, it's even better than you ever hoped for. Clay Matthews has shown that he's down for some ridiculousness, appearing in things like The Mindy Project, but this time he's enlisted teammates Josh Sitton, T.J. Lang, Don Barclay, and David Bakhtiari—who reportedly lobbied hard for this appearance—and it doesn't disappoint. You haven't really lived until you've watched a bunch of beefy professional athletes in matching blazers harmonize to a Destiny's Child cut. And no, Clay Matthews, we are not ready for this jelly.
Kether Donohue
As stated, in the climactic scene in Pitch Perfect 2 Barden Bellas from across generations show up to get in on the fun. In particular, eagle-eyed viewers will recognize Kether Donohue from the first film. She's only in the movie for one scene, playing Alice, the Queen Bee of the Bellas who laments that she has to hand the pitch pipe over to Aubrey (Anna Camp) and Chloe (Brittany Snow)—you can only imagine how she felt after the vomit-palooza that followed. But apparently bygones are bygones, as she joins her sisters one more time for their triumphant moment on the world stage.
Lana/CJ Perry
Another of the Legacy Bellas you may recognize from Pitch Perfect is C.J. Perry, perhaps better known as professional wrestler Lana. As so many from that line of work are wont to do, she has been making inroads into acting in recent years, including as one of the Barden Bellas from the opening scene of the first film (she also played one of the Footnotes later on), a role she reprised for the finale this time around. She, too, couldn't resist the pull of one last turn on stage, though if you blink, you might miss her.
Your Daily Blend of Entertainment News