Pitch Perfect 3? Rebel Wilson Has A Few Ideas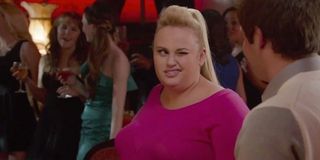 Pitch Perfect 2, the sequel 2012's surprise hit about a college a cappella group named the Barden Bellas overcoming the odds, doesn't hit theaters until the end of this week. But as you know, it's never to early for a studio to start talking about expanding a franchise, and one of the stars of Pitch Perfect has some ideas for Pitch Perfect 3.
Talking to The Hollywood Reporter at the Los Angeles premiere, star Rebel Wilson, who plays a character named Fat Amy, said she has a vision for Pitch Perfect 3 where:
Fat Amy, as a character, hails from Tasmania, where she is the best singer with teeth, so an origin story for her would certainly be something of a spectacle (I feel like she'd have to fight a kangaroo). We would probably also see her become proficient at modern dance, olden dance, and mermaid dancing, which involves a lot of floor work.
The Bellas may be a force to be reckoned with on the collegiate a cappella scene, but the limited nature of the college experience has led to questions about the potential longevity of what has become a franchise. The core cast, which includes the likes of Wilson, Anna Kendrick, and Brittany Snow, has added some fresh faces this time around, like True Grit's Hailee Steinfeld, but a lot of these young women are getting ready to graduate before long, so turnover is inevitable.
It is possible that future films could follow the Bellas out into the real world, as Wilson suggests. We know that Beca (Kendrick) has dreams of going to Hollywood and working in the music industry, but there's a whole wide world waiting out there for them to explore. In Pitch Perfect 2 we get a taste of this as the Bellas go global, competing in the world championships of a cappella, which is actually a real thing that happens.
Rebel Wilson isn't the only member of the team with ideas and plans about Pitch Perfect 3. Kay Cannon, who wrote the script for the first two films, also sounded off on future installments in rather protective fashion. She said:
Who knows how Tracy Morgan would fit into Pitch Perfect 3—maybe he could play a wise old a cappella sage the Bellas track down for advice—but Cannon is certainly in the position to make that happen, or at least write a part with him in mind.
Pitch Perfect 2 is already on track for a solid opening, neck in neck in the box office predictions with Mad Max: Fury Road, which cost exponentially more money to produce. The Pitch is back this Friday, May 15. Aca-belive it.
Your Daily Blend of Entertainment News
Thank you for signing up to CinemaBlend. You will receive a verification email shortly.
There was a problem. Please refresh the page and try again.