Pitch Perfect Gets Torn Apart In New Honest Trailer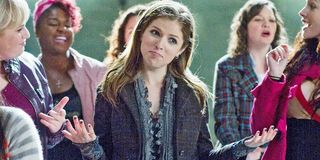 Sorry, Pitch Perfect fans. If you can't stand anyone aca-attacking your favorite a capella comedy, then you might want to aca-accelerate it on out of here. Screen Junkies unleashed their latest Honest Trailer and it rips Pitch Perfect a new a hole. And just in time for the sequel's release!
The first Pitch Perfect starred Anna Kendrick, Rebel Wilson, Anna Camp, Brittany Snow, Skylar Astin and more, in a story about a young aspiring music producer/DJ who enrolls in college at the behest of her father. Once there, she gets pressured into joining the all-female a capella group, and she helps raise them up to national champion status.
The Barden Bellas may have found their sound and transformed into a powerhouse group, but the film has a few kinks to work out, according to this Honest Trailer. The video takes issue with a number of points, including the fact that virtually every character, from the a capella podcasters to various group members, needlessly add "aca-" onto everything. Now we're all inadvertently doing it, too.
More egregious, though, is something I took issue with in my review of Pitch Perfect 2. All the characters never skirt beyond their assigned label. There's the slutty girl (Alexis Knapp), the funny fat girl (Wilson, aka "Reblissa WilCarthy"), the weird girl (Hana Mae Lee), the cool girl who hates everything (Kendrick), the lesbian (Ester Dean), the B girl (Camp) and the obsessive team player (Snow).
But, all these so-called issues didn't stop audiences from aca-shouting for joy when they saw the film, much like how there's an oddly large number of a capella fans shown in the movie. The same goes for Pitch Perfect 2. If you liked the first movie, you're going to like this one because it pretty much sticks to this formula, for better or worse.
Pitch Perfect 2 hits theaters this weekend. The Bellas are back with three national a capella titles under their belts since the ending of Pitch Perfect. However, thanks to an incident involving Fat Amy, her exposed vagina and President Obama, they've been banned from competing. There is one hope at redemption: the World Championships of A Capella. If they win that, they'll redeem their group's name. Unfortunately, their leader seems checked out, they have to train their new recruit, and one nasty German super group, Das Sound Machine, stands in their way of the title. Elizabeth Banks, who plays the snarky podcaster Gail, reprises her character but also steps into the role of director for the sequel. And she's up to the task. But we'll expect an Honest Trailer for the sequel in a few months.
Your Daily Blend of Entertainment News