Anna Kendrick Loves Her Beautiful Weirdos In Extended Pitch Perfect 2 Clip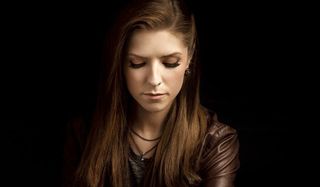 The Barden Bellas are back! But for some of our favorite a cappella girls, it may be the last hurrah. In a new extended clip for Pitch Perfect 2, the Bellas share a sweet moment and a familiar song in a campfire gathering in one of their final moments together. Take a look.
In the new campfire movie clip for Pitch Perfect 2, Beca—played by the hilarious and talented Anna Kendrick—shares her feelings about parting ways from her friends in the Barden Bellas on what appears to be one of their final nights together. After Beca reveals her fondness for the girls—in a way that only Beca could—Chloe (Brittany Snow) begins to lighten the mood by singing Beca's Barden Bella audition song from the first Pitch Perfect movie, then pauses briefly to offer a smile to her singing comrade before all of the girls join in. "Cups" couldn't have sounded better than in that moment, a sign that Pitch Perfect 2 is well on track to be a spectacular follow-up to the first a capella smash.
Much like the first Pitch Perfect movie, which was loosely based on Mickey Rapkin's nonfiction book Pitch Perfect: The Quest for Collegiate A Cappella Glory, the plot of the sequel revolves around coming-of-age type dilemmas. According to Elizabeth Banks—who co-starred in Pitch Perfect and now is serving as director on Pitch Perfect 2—the girls are nearing the end of their time as the Barden Bellas. This means that quite a few of the girls, including Beca, will be graduating soon. But we know, thanks to trailers and clips, that the girls will compete in a global singing competition as this sequel rolls on. Will they wither once the eyes of the world are on them?
It also means that questions will have to be asked of this franchise, given the future is fast approaching. Will fans return for a sequel? Will any of the girls on screen continue to pursue music professionally (as characters), or none at all? I guess we'll have to wait to find out. But then again, if Banks and the rest of the team stick to the formula of the first Pitch Perfect movie—and from the looks of it they have given that Kay Cannon wrote the screenplay for the sequel—fans just may get the Pitch Perfect 2 that they are hoping for; happy ending and all.
The first Pitch Perfect movie was released into theaters back in September 2012 to positive reviews from critics, but took a little time to win over audiences. The a cappella based musical comedy was considered a sleeper hit, gaining success over the long haul of the film's run in theaters despite minimal promotion or a big opening-weekend tally. Now, the sequel to the cult favorite has a summer premiere date. Will you be there when Pitch Perfect 2 hits theaters on May 15?
Your Daily Blend of Entertainment News