Pixar's Inside Out Trailer Finally Lays Out The Heartwarming Story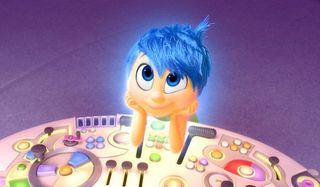 Disney and Pixar unleased an all-new Inside Out trailer that finally details what we can expect from this unique adventure. We've already met the setting, a young girl named Riley, and her various emotions. But what actually is going on inside Riley's head? Watch what happens when the most important emotion gets lost in the dark recesses of the brain.
The Ellen show debuted the new Inside Out trailer, which features Amy Poehler as Joy. As the central emotion of Riley's brain, she is responsible for maintaining the young girl's cheery disposition. Along with Anger (Lewis Black), Sadness (Phyllis Smith), Disgust (Mindy Kaling) and Fear (Bill Hader), she keeps Riley's emotional state on track. Unfortunately, our new look at Inside Out reveals how Joy and Sadness get sucked away from the command center of the brain and propelled into the deepest depths of Riley's consciousness. With Anger, Disgust and Fear as the only ones left to steer the ship, this can't be good for the young girl. Poehler and Hader are dropping by Ellen for Tuesday show, and they'll be bringing along the new trailer with them. But you can watch it in the player above right now.
From 2006's Cars to 2013's Monsters University, one Pixar movie was released in theaters every year. But the beloved animation studio changed course in 2014. The Good Dinosaur, which imagines a prehistoric world where the dinosaurs were never extinct, was supposed to be released last year. Co-directors Peter Sohn and Bob Peterson ended up revamping the majority of the film, which led to it getting pushed till later this year (November 25). So 2015 will grant us with two Pixar films, and Inside Out is the first of 'em.
We've seen bits and pieces of Inside Out over the last few months, and so far it seems like a cutesy tale. We were sold back in previous looks with the scene between the mother and father's emotions. But with this new trailer, we can glimpse the various other locales Joy and Sadness will be traversing. Given Parks and Recreation's heartfelt conclusion on NBC, it's nice to hear Poehler reprising some of her Leslie Knope-isms in Imagination Land. We're pretty sure Knope had the same reaction to meeting Joe Biden as Joy had to meeting Fairy Unicorn at Dream Productions.
By all accounts, Inside Out seems like a film that every member of the family can enjoy, which is sort of Pixar's shtick. However, audiences didn't seem to be into the past few films: Cars 2, Brave and Monsters U. Can the studio turn things around with Inside Out with it hits theaters on june 19? If not, there's always the highly anticipated Finding Dory coming in 2016.
Your Daily Blend of Entertainment News
Your Daily Blend of Entertainment News
Thank you for signing up to CinemaBlend. You will receive a verification email shortly.
There was a problem. Please refresh the page and try again.