Amy Poehler, Mindy Kaling, Lewis Black And More Lend Voices To Pixar's Inside Out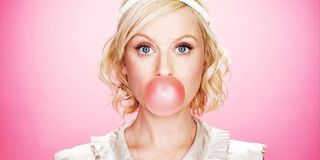 The news from today's D23 presentation by Walt Disney Animation and Pixar about the voice cast for The Good Dinosaur was exciting, sure, but it wasn't enough to eclipse the buzz for another new, original Pixar movie, Inside Out. Directed by Up's Pete Docter and taking place entirely inside the brain of a small girl, Inside Out seems strange and original and everything we used to expect from Pixar before they got so heavily into the sequel business. And now, like The Good Dinosaur, it's got a voice cast to match that excitement.
During the D23 presentation Docter took the stage with producer Jonas Rivera and announced the voice cast, all of whom will be playing emotions inside the mind of a little girl named Riley. Lewis Black appears as Anger, Mindy Kaling as Disgust, Bill Hader (also a Good Dinosaur cast member) as Fear, Amy Poehler as Joy and Sadness by Phyllis Smith, famous as Phyllis on The Office. Docter and Rivera revealed that the movie will travel to many areas of the brain, from the theme park-like Imagination Land to Dream Production, all of it connected by the Train of Thought (get it?!?!) At least some of the story will be about what happens when several emotions are asked to take over for others, to relatively disastrous effect.
Because it's hard to conceptualize exactly what all this will entail without seeing it, we're just going to focus on how slap-your-head perfect this voice casting is. It's all right there in their previous work. Take a look:
Lewis Black as Anger:
Mindy Kaling as Disgust:
Bill Hader as Fear:
Amy Poehler as Joy:
Phyllis Smith as Sadness:
Inside Out opens June 19, 2015.
Your Daily Blend of Entertainment News
Staff Writer at CinemaBlend