Pixar's Upcoming Film Will Take Place In A Little Girl's Mind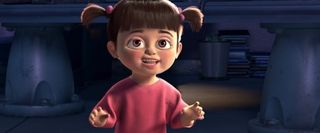 Pixar has taken heat for years over the relative lack of female characters in their studio output-- while Disney has created unforgettable female heroines (and yes, princesses) in Belle and Rapunzel, Pixar's amazing films have focused almost exclusively on male protagonists, with the exception of supporting characters like Toy Story 2's Jessie and Monsters Inc.'s Boo. But next summer they're bringing us Brave, their venture into both a princess story and a female-driven adventure; the movie's heroine Merida, as we saw in the recent trailer, is both a badass warrior and a girl fighting against society's expectations from a "proper" female.
We have a few sketchy ideas of the projects Pixar has in the hooper to follow up on Brave, including the Monsters Inc. prequel Monsters University, and now John Lasseter has revealed that they've got yet another that will feature a female protagonist. Visiting the Charlie Rose Show, via The Pixar Times, Pixar chief John Lasseter revealed few details on the next project from Up director Pete Docter:
This project "set inside the mind" had been announced over the summer, but details were fuzzy beyond the working title The Untitled Pixar Movie That Takes You Inside The Mind. Lasseter's reveal, not just about the gender of the mind in question but the fact that we'll be limited to the mind of a child, gives a better sense of just how this might work, beyond just being a movie version of the "Body Wars" ride at EPCOT (remember that?) If you saw the Pixar short that preceded Toy Story 3, "Night and Day," you might have gotten a preview of what Pixar plans to do in telling a story about completely ephemeral ideas like times of day or ideas. Or hey, they might be doing something completely, totally different. The great thing about these guys is you never quite know what direction they'll take.
As much as I know it's silly to expect a quota system in movies, and demand that Pixar tell stories about women solely because they haven't yet, I'm really thrilled to see that Pixar wants to dig into the brain of a little girl. They're maybe the most marketed-to group for animated films, but probably the least recognized or understood. Pete Docter created an unforgettable little girl with Monsters Inc.'s Boo, so here's hoping he can do it again.
Staff Writer at CinemaBlend
Your Daily Blend of Entertainment News
Thank you for signing up to CinemaBlend. You will receive a verification email shortly.
There was a problem. Please refresh the page and try again.