The Playboy Club's Amber Heard May Join Liam Hemsworth In Paranoia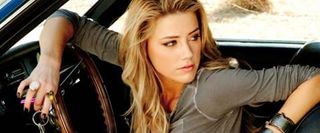 While her name may not strike a bell, chances are you have seen Amber Heard mixing it up with some of Hollywood's biggest leading men…though admittedly in some less than prestigious films. Just last year, she co-starred with Nicolas Cage in Drive Angry and Johnny Depp in The Rum Diary. And not long before that, she was cozying up to Jesse Eisenberg in Zombieland as the ill-fated neighbor—called only "406"—who ultimately alerts his nebbish Columbus to the arrival of the undead uprising. She also starred in the short-lived NBC period drama The Playboy Club. And now Variety reports she is in talks to appear opposite one of Hollywood's newest fast-rising stars, Liam Hemsworth, in the Robert Luketic's corporate espionage thriller Paranoia.
Based on the novel by Joseph Finder, Paranoia posits The Hunger Games star/future Mr. Miley Cyurs as a blue-collar guy who makes a fateful—and illegal—mistake. But rather than turn him in, his boss blackmails the young man into infiltrating his corporate competitor, a rival telecommunications firm. Heard would play Hemsworth's love interest, a one-night-stand who proves a useful—though probably unknowing—informant, who works for the rival company.
Now, I know what you're thinking, "A thriller about an intense rivalry between telecommunication firms! It's like Hollywood's reading my wish list journal!" But simmer down, because though Luketic has somehow secured Harrison Ford and Gary Oldman to co-star—likely as the business adversaries—it's worth remembering that the director's filmography includes such painfully terrible efforts as the card-counting crime-drama 21 and the Katherine Heigl rom-coms The Ugly Truth and Killers. Between him and the snooze-inducing logline, Paranoia seems sure to be another forgettable feature that'll clutter Heard's résumé until something better comes along.
Paranoia will shoot in July, and is expected to hit theaters September 27, 2013. Heard is currently in production on Robert Rodriguez's Machete Kills.
Your Daily Blend of Entertainment News
Staff writer at CinemaBlend.