Playing James Bond Ruins Your Career, According To IMDB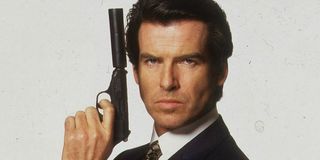 On the surface, it would seem that getting cast as debonair secret agent James Bond would represent the dream of every actor. You not only become one of the coolest action heroes in cinema, but you get the chance to become the definitive symbol of silver screen masculinity. However, as athletes who have graced the cover of Sports Illustrated can attest, some honors turn out to be terrible curses. The numbers are in, and it seems that portraying James Bond pretty much guarantees your career is about to go down faster than a vodka martini in the hands of Bond himself.
Although the character James Bond threw away his cyanide capsule years ago, it seems that the simple act of portraying the suave British spy represents career suicide. Based upon a new report from FiveThirtyEight, a comparison of the average IMDB user rating of a Bond actor shows that they experience much higher overall ratings before they step into the tuxedo. During their tenures as Bond, and after they retire, their overall ratings as actors tend to drop dramatically compared to their pre-Bond ratings.
Beyond that, the report also seems to indicate that the overall number of roles that an actor can get following a stint as James Bond seems to go down as well. Theories about why this occurs seem to vary, ranging from increased financial security afforded by the part to the need to recover physically from a stunt-heavy Bond movie. No matter what the reason is, the numbers do not lie: actors tend to become decidedly less active once they have left the role of James Bond. Just look at Daniel Craig; Bond has been such an intensive endeavor that he has had only one major non-007 acting job since 2012, and even that was a limited run stage production.
Of course, one specific exception to this rule comes in the form of Sean Connery. As the first canon 007, he went on to become a silver screen icon in his own right – even garnering an Academy Award in 1988 for his portrayal of Jim Malone in Brian De Palma's The Untouchables. However, from George Lazenby to Daniel Craig, the average rating and average activity of a typical James Bond actor goes down once they've taken on the role, and proceeds to drop even lower once they've retired from the role.
It seems that the biggest takeaway from this revelation is the idea that we perhaps shouldn't want our favorite actors to get cast in the role of James Bond. Whenever the current Bond is rumored to be leaving, people start to fill in the vacant spot with their own favorites, such as Tom Hiddleston or Idris Elba. The raw data seems to reveal that it would be a much safer decision for their careers to stay as far away from the role of James Bond as possible and opt to keep taking parts as less treasured characters.
With all that in mind, it seems as though the best option for the next James Bond would be an unknown actor with limited credits to his name. Only time will tell what happens, but the actors in contention for the role would want to take a long, hard look at this data before making any decisions.
Originally from Connecticut, Conner grew up in San Diego and graduated from Chapman University in 2014. He now lives in Los Angeles working in and around the entertainment industry and can mostly be found binging horror movies and chugging coffee.
Your Daily Blend of Entertainment News
Thank you for signing up to CinemaBlend. You will receive a verification email shortly.
There was a problem. Please refresh the page and try again.