Popeye Looks Way Sleeker, Way More Modern In This First Footage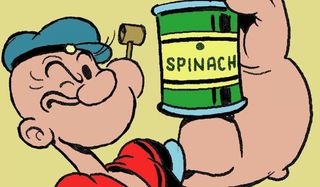 Director Genndy Tartakovksy and his team are currently hard at work on Hotel Transylvania 2, the follow-up to one 2012's funniest kids' movies. But the Moscow-born animator has another project he's working on, one that's near and dear to his heart: a big screen updating of everyone's favorite sailor man, Popeye. To give fans a taste of what he has in store for them, Tartakovsky has released this amazing animation test video.
Inspired by Max Fleischer's classic cartoons, Tartakovksy is looking to walk the fine line between staying true to his inspiration while modernizing a beloved character for today's audiences in the new video posted to YouTube, one he insists isn't a trailer or even a clip. Judging by what's on display, he's nailed it.
The footage shows us how Popeye and supporting characters like Olive Oyl and Bluto would look re-imagined through modern CG animation techniques. It's a really neat upgrade when compared to the animation of old, yet retains enough of the signature style of the original cartoons to be instantly recognizable to anyone who popped open a can of spinach as a kid hoping to grow massive muscles.
Tartakovsky shares his vision for the animated Popeye feature, which is still searching for an official greenlight after slipping down to a "TBD 2015" release date – which seems optimistic at best. Tartakovsky hopes to make "a film that would have the same sort of crazy physical humor that we put into Hotel Transylvania. Only this movie would have 10 times as many physical gags." Again, judging from the footage here, he landed a bulls-eye on that goal.
It won't be all physical gags and over the top humor, though. Tartakovsky envisions a script that will have some quieter character moments amongst all the hilarious hijinks. Popeye will be able to explore his relationships with Olive and his father, and fan favorite Wimpy is also guaranteed to make an appearance.
So, with the new animated film's future up in the air, what's the point of releasing this footage in the first place? Simply put, to raise public awareness. Genndy Tartakovksy hopes that people will see and share his Popeye footage, and that Sony will take notice and lock down a production date for the film. In a perfect world, he says he would love to jump from Hotel Transylvania 2 straight into Popeye production.
We'll have to wait and see if the filmmaker gets his wish, but we're definitely rooting for him after seeing this test footage. Popeye is a property that's ripe for an updating, and it's hard to imagine it in better hands than Tartakovsky's – the man clearly loves and understands the property.
What do you think of this footage?
Your Daily Blend of Entertainment News