Popular New York Radio Host Slams Avengers 2 In Vicious, 4 Minute Rant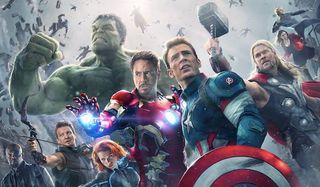 Although Avengers: Age of Ultron has been raking in the big bucks at the box office worldwide over the last two weeks, critical reception has been more mixed compared to its predecessor. Some folks think it's another fine entry for the Marvel Cinematic Universe, others weren't so fond of it. One of the film's detractors is radio host Mike Francesa, who recently went into a four-minute tear on how much he disliked the movie. In fact, "dislike" may be too soft of a word to describe his feelings. Check out the rant against Marvel's latest film below.
During an episode of The Mike Francesa Show, the titular host used the platform to express his disappointment with the film, one of whose main heroes is "the green guy," as he called Hulk. Having seen the movie with his two boys, both of whom enjoyed it, Francesa described this "kid movie" as one of the worst he's ever seen. Here's his basic summary of the superhero movie:
Almost all of his complaints over the film were directed its apparent lack of script and how hard it was to follow. The latter is understandable, but the former isn't really an appropriate description. Is Avengers: Age of Ultron an action-driven movie? Of course it is, as are most superhero films. What doesn't make sense about Francesa's critique is that the film featured plenty of moments of the characters conversing with each other, like the break Hawkeye's farm or when the other Avengers confront Tony about building Ultron. Admittedly, the film might be harder to understand if you're not well-versed in the MCU lore, but that's not the same thing as the film having little-to-no dialogue at all.
His classification of it being a kid movie doesn't make sense either. Avengers: Age of Ultron is rated PG-13, which is means that "some material may be inappropriate for children under 13." So yes, while this may be adapting source material that once was primarily targeted towards children (that isn't the case anymore), it would hardly be held to the same standards as upcoming offerings like Inside Out or Minions.
To cap off his vague critique, Francesa stated that Avengers: Age of Ultron was one of the hardest kids movies he's ever had to sit through, with only one other film proving equally or more challenging.
The Muppets Take Manhattan was the actual film from the three mentioned, but that's not important. Francesa's issues with Avengers: Age of Ultron aside, am I the only one who wants to see a Muppets Invade Philadelphia movie be made?! Having those colorful characters roaming around the City of Brotherly Love would surely be a hit for the whole family to enjoy! Maybe when their new TV series isn't shooting, Disney can put that on the film slate.
Your Daily Blend of Entertainment News
Connoisseur of Marvel, DC, Star Wars, John Wick, MonsterVerse and Doctor Who lore. He's aware he looks like Harry Potter and Clark Kent.
Your Daily Blend of Entertainment News
Thank you for signing up to CinemaBlend. You will receive a verification email shortly.
There was a problem. Please refresh the page and try again.