Chalk Up Another Win For Those Adorable Minions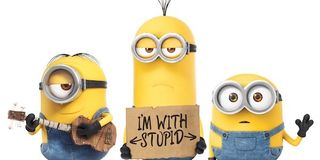 There are all kinds of things that illustrate how big a cultural impact a movie has. Maybe dialogue weaves its way into our collective lexicon, perhaps The Simpsons spoofs a film in an episode, maybe it gets a porn parody. Now the Despicable Me movies have found a unique lasting imprint, as the mischievous Minions have inspired their very own color of paint.
You may look at the naughty little buggers and think, "They look yellow," but now and forever more, that precise shade will be known as "Minion Yellow," according to the Pantone Color Institute. This particular hue is Pantone's first ever character-branded color, and they worked with Illumination Entertainment to create a shade that is "illuminating, energetic, friendly and fun-loving yellow shade that immediately calls out to you.
Pantone's Executive Director, Leatrice Eiseman says:
Admittedly, that might be just a wee bit hyperbolic, but it's a nice sentiment, and it's fine bright, festive shade of yellow if you're into that. It's like the color equivalent of the song "Happy" by Pharrell Williams, which appears in Despicable Me 2, and then became ubiquitous, showing up in countless commercials for just about every product you can name, and even scored an Academy Award nomination.
Coincidentally enough, Pharrell is at least partially responsible for the development of this color. He noted that people wanted bright, invigorating colors in their lives, and that's right up Panton Color Institute's alley. They're the research wing of the paint company and they study how colors impact human emotion, physicality, and even thought processes, and they track global trends in color and color use. They worked closely with he animation team from the films to find the precise gradation that best represents and personifies the Minions.
We'll next see the loveable little buggers on screen this summer, when their first solo adventure, the aptly titled prequel Minions, hits. Existing since the beginning of time, with the purpose of serving the most despicable masters, they've accidentally destroyed all those they assisted, including T-Rex, Genghis Khan, and even Dracula. After going into hiding in Antarctica, they encounter a villain who might be the perfect fit for them, the nefarious Scarlet Overkill (Sandra Bullock).
Minions opens everywhere on July 10, and some have predicted that it could gross a billion dollars, which is impressive. The voice cast includes Sandra Bullock, Jon Hamm, Allison Janney, Michael Keaton, and Steven Coogan, among others. And if you just need to paint your living room Minion Yellow, Pantone plans to make it available with their next color addition.
Your Daily Blend of Entertainment News
Thank you for signing up to CinemaBlend. You will receive a verification email shortly.
There was a problem. Please refresh the page and try again.