The Power Rangers Movie: Check Out The Names And Character Descriptions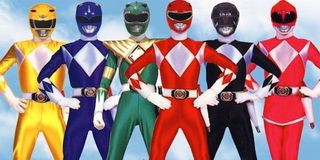 Are you ready, '90s kids? Because here we go. Saban's Power Rangers are getting big-budget, big screen reboot. Fans of the beloved, ultra-cheesy franchise have been wondering about this new interpretation of the their favorite characters, we've got some new details.
Sources close to the good folks over at Collider gave them the rundown on the five primary characters, including their names and a brief description of each. And if you were hoping to see Jason, Kimberly, Trini, Billy, and Zack covered in spandex and blasted across the screen at your local theater in a couple years, you're in luck. As it turns out, Power Rangers is sticking with the five main characters from the long-running series.
First up is Jason. At 17-years old, he was already a big man in a small down. The high school quarterback, he was destined for big things, until he crashed his car and ruined his knee. So long football career and local notoriety. At the beginning of the movie he is lost and trying to find himself, but he's still destined for greatness, and he'll "be leading this disparate group of teens to shed their individual baggage and find who they truly are."
Kimberly is also 17—actually, they're all 17, so I'm going to stop mentioning that fact. She used to be a popular girl, but decided to follow her own unique path. After a six-month absence from school, she's finally back, but with a sharp new attitude, and is the subject of countless rumors. This bristly exterior hides a deep, dark secret and a concealed vulnerability that I'm sure we'll learn more about.
Trini's parents move a lot for work, making her the eternal new kid, which comes with its own set of issues. She's a loner who longs to find a group of close friends—even if she won't admit it—and though she is self-sufficient and lurks on the outside, she's always watching.
Billy may be super smart, but he's awkward and scrawny, you know, a typical teen movie nerd. He is socially maladjusted, deals with OCD, and has problems with normal things like showing emotion and understanding his fellow humans. Though he has never really had anyone to truly call a friend, he is drawn towards Jason. It's easy to imagine Jason adopting him like a stray puppy.
Zack rounds out the quintet. He's a wise ass always ready with a quip or a joke. Outgoing and brimming with charm, he's the guy you want there to liven up your dull-ass party. He's also a great athlete, though he prefers to do his own thing. But beneath this swagger and cockiness lies an inferiority complex that he's compensating for because he lives with his single mom in a trailer park.
There you have it, the stars of the Power Rangers show. Dean Israelite, who helmed the teen time travel flick Project Almanac, will direct the film, which he called a "mature but still playful" take on the material. We're curious to see how that works. The Last Witch Hunter scribes Burk Sharpless and Matt Sazama knocked out the first draft of the script, and Ashley Miller and Zack Stentz, the duo behind X-Men: First Class, are working on whipping it into filming shape.
Power Rangers is scheduled to hit theaters January 13, 2017.
Your Daily Blend of Entertainment News
Thank you for signing up to CinemaBlend. You will receive a verification email shortly.
There was a problem. Please refresh the page and try again.