Sam Claflin Denies Interest In Power Rangers Reboot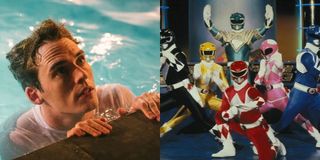 Those Mighty Morphin' Power Rangers haven't found their leading man just yet apparently. Even though the actor they were allegedly interested in, Sam Claflin, declared his adulation for the franchise with a rather emphatic Tweet earlier this week. However, Claflin has since deleted this post, and a representative for the actor insists that he's not even a candidate for one of the suits.
Sam Claflin only has himself to blame for being heavily linked to the leading role in Power Rangers though. That's because on Monday the English thespian tweeted out:
Now, to the naked eye, this could have just been seen as the actor randomly declaring his affinity for the much loved '90s children's television show. But, as Lionsgate Films and Saban are currently on the hunt for actors for their impending reboot of Power Rangers, movie aficionados and nosey parkers instantly read this as a declaration of intent from Claflin that he wanted to wear one of the color-coded, skin-tight spandex suits.
Meanwhile, some people jumped massively ahead with their assumptions and interpreted that his message to mean he'd already secured a leading part. But that's actually not the case. A representative for Sam Claflin has now confirmed to Comic Book.com that the actor wasn't actually a "candidate" for the film.
Despite being just 29-years-old, Sam Claflin has already popped up in a number of notable franchises in supporting parts, and he's clearly on the look out for a leading role in a beloved series that will help catapult him to the Hollywood upper echelon. The Power Rangers reboot certainly looked as though it fit this mold for the actor, while it was also believed that he has the characteristics and CV to suit the film, too. Plus, it also helps that he's a handsome sod.
But why has Sam Claflin been overlooked? Early guesswork is the actor's age. The studios involved in the reboot have decided to follow Sony and Marvel's plan for Spider-Man by casting younger actors, around the age of 18. In fact, both Lionsgate Films and Saban are also looking for relative unknowns. While the powers that be with the Power Rangers reboot might think that Sam Claflin is a bit too old to take a lead in their film, there's no denying the fact that he has already assembled an impressive resume over the last five years.
After honing his craft in a number of British television productions, Sam Claflin rose to prominence thanks to his starring role as Phillip Swift in Pirates Of The Caribbean: On Stranger Tides. As you'd expect, his presence in a $1.046 billion grossing film made him a hot commodity, which then led to him starring in Snow White and the Huntsman and The Hunger Games: Catching Fire as Finnick Odair – a role that he has since reprised in both Mockingjay – Part 1 and Part 2.
Meanwhile, solid leading performances in The Riot Club, Love, Rosie, and The Quiet Ones, have proven that Sam Claflin certainly possesses leading man charisma. It's just unfortunate for him that Lionsgate doesn't believe it matches up with their plan for Power Rangers.
Your Daily Blend of Entertainment News