Prepare To Feel The Wrath Of The Swarm Remake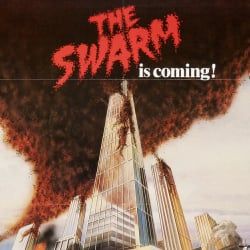 If you're not old enough to remember the 70s disaster movie vogue, you might automatically assume that a movie starring Michael Caine, Henry Fonda, Patty Duke, Fred MacMurray and Olivia de Havilland would be an instant classic. And yet, somehow, the movie with that astonishing lineup is The Swarm, an Irwin Allen effort about a group of killer bees traveling up from South America to destroy--for some reason-- Houston, Texas. The movie is so bad that Michael Caine has apparently disowned it, but since everything is new again, it's apparently time for The Swarm to make a comeback. Hey, if Piranha 3D can do it, anything is possible.
According to The Wrap, producers Roy Lee and Steven Schneider are putting together a remake of the film, with commercials veteran Ash Bolland set to direct. A writer will be hired in the next month, though it's not clear if he'll be working from the Arthur Herzog novel that inspired the first film, or Irwin Allen's film itself.
Check out some examples of Bolland's previous work embedded below (via his website). Does any of this suggest "killer bee epic" to you guys? It looks creative and weird enough that he might do something interesting with the genre, but as someone distinctly uninterested in Piranha 3D, it's going to take something more than this-- like, exhuming Henry Fonda and teaming him back up with Michael Caine-- to make me care about this one either.
Your Daily Blend of Entertainment News
Staff Writer at CinemaBlend